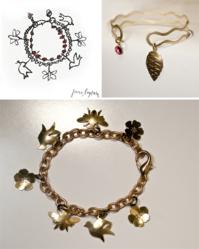 Mix Gemstones and Story Charms To Create Your Own Unique Charm Bracelet
Boston, MA (PRWEB) March 29, 2013
Jenne Rayburn Handcrafted Jewelry and Wearable Art introduces unique handcrafted storytelling charm bracelets for Spring 2013.
The classic charm bracelet, reinvented, has been making a big comeback in fashion. Charm bracelets add personality and whimsy to a jewelry collection and can be passed down and shared with your children and your grandchildren. These 14-karet matt gold-plated, antiqued brass, and sterling silver bracelets take charm bracelets to a new level. An alternative to beaded bracelets, a charm bracelet can revitalize your look, blending tradition with trend.
Each artisan jewelry bracelet tells a story. "Whether it's about romance (The Birds and the Bees) or an individual struggle over adversity (Winning the Race), I can help you find a bracelet that offers special meaning for your special someone," says Jenne Rayburn. Jewelry is a very personal gift and these bracelets can reflect a young girl's or woman's individual spirit and style.
Other styles reflect hobbies and happy experiences such as Surfer Girl (mermaids and dolphins) for swimmers or Pacific NW Forest (ravens and fir trees) for hikers or The Butterfly Garden for gardeners. Another romantic bracelet features half moons and owls called Moonlight Flight. Custom jewelry bracelets that include birthstones and gemstones can be made on request through http://www.jennerayburn.com.
Visit Jenne Rayburn's collections
http://www.jennerayburn.com
Visit Jenne Rayburn on Facebook
http://www.facebook.com/Jenne.Rayburn
About:
Jenne Rayburn is a Boston-based jewelry/textile artist who also studied interior design and architecture, and her work explores the convergence of architecture, design, technique and identity. Jenne is known for her designs combining vintage textiles, findings and components, with contemporary textile design. A graduate of the University of Washington where she studied metalsmithing and fiber arts, and of the University of Massachusetts, Amherst with a MS in Design, Jenne has been designing jewelry and accessories for over 20 years. Perpetual curiosity and a passion for experimentation resulted in her first jewelry collection made from etched copper and brilliantly colored enamel. Since then, Jenne has created six unique collections of jewelry and fashion accessories that combine careful workmanship with unique materials and designs. It is her hope that the wearers of her pieces will find joy in a delightful artistic statement, and also something that enhances their individuality and confidence. Her work is suitable for wedding jewelry and is carried in local galleries and online. Please visit http://www.jennerayburn.com for Jenne Rayburn's online flagship store. For wholesale information, please visit jennerayburn.com/wholesale.com