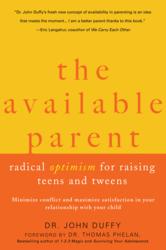 "A healthy dose of optimism and lots of practical suggestions."

—Publishers Weekly
(PRWEB) March 29, 2013
Teen and tween parenting expert Dr. John Duffy weighs in on the issue of children and religion in an article for Time.com, Time Magazine's online publication. Duffy explains that sometimes excessive religious ritual can be an expression of mental illness like OCD (Obsessive Compulsive Disorder), especially in children and teenagers.
Dr. Duffy also provides insight into the special challenges facing children of divorced parents in a series of articles from the popular parenting site Mom.me. He identifies specific issues that can arise for children, teens and daughters, and provides grounded and relatable advice to prevent these issues.
The Available Parent further expands upon Duffy's advice for parents, and has recently become a best-seller. The book can be found in paperback or audiobook form, and gives parents a new strategy for helping their adolescents become competent, resilient, connected adults. Dr. Duffy believes that it's not teenagers who are unavailable. He believes that too often parents strike first with judgment, fear, anger and ego—and their teens simply react in kind. The Available Parent outlines clear, teen-tested strategies for transforming that dynamic.