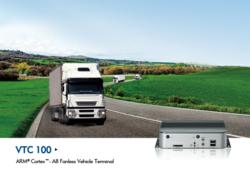 Fremont, CA (PRWEB) March 29, 2013
NEXCOM launches the mini ARM-based vehicle terminal VTC 100 that runs telematics applications on 8 watts of power and boots in 10 seconds. The VTC 100 features low power ARM® Cortex™-A8 processor, pre-installed operating system, various wireless and CAN bus communications and smart power management. This vehicle terminal enhances mobility and assists with driver hours of service (HOS) compliance for a variety of dispatch services such as taxi, truck, airport shuttle, and ambulance.
Positioned as a power-efficient vehicle terminal, the VTC 100 is based on TI AM3352 ARM® Cortex™-A8 processor and is pre-installed with Windows Embedded Compact 7 or embedded Linux operating system. With a choice of wide varieties of off-the-shelf application software, the VTC 100 can carry out asset tracking, vehicle navigation, task dispatching, and driver record keeping with ultra low power consumption. Thanks to robust hardware and software integration, the unit can boot fast and therefore keep the fleet ready to mobilize in a fast-paced environment.
As a dedicated telematics appliance, the VTC 100 offers GPS tracking and navigation along with support for dead reckoning. It adopts SAE J1939/ J1708 CAN bus protocols to vehicle data acquisition and allows for data exchange over Bluetooth, Wi-Fi and 3G. A 4GB microSDHC Class 10 memory card is shipped with the VTC 100, which allows for high speed read/ write speed and expansion up to 16GB.
Used in vehicles, the VTC 100 supports a wide range of power inputs from 9~36V and smart power management that enables it to work in conjunction with both 12V and 24V electronics systems while negating voltage spikes. It ensures reliable operation in severe conditions including temperature extremes ranging from -20 to 70 degree Celsius and vibration and shock according to MIL-STD-810G standards. Sized 45mm x 180mm x 110mm (H x W x D), smaller than a DL envelop, easily tucks away into any vehicles regardless of space concerns.
About NEXCOM: NEXCOM International Co., LTD., an ISO-9001-certified company and a member of PICMG, PCI-SIG, and the Intel® Embedded Alliance, is at the forefront of the competition by offering OEM, ODM and OBM designs for products such as innovative blade servers; network security appliances; industrial and embedded PC products such as single board computers, embedded boards and systems; CompactPCI CPU boards; industrial-grade server boards; and customized platforms. Established in 1992, NEXCOM has since won several patents, awards, certifications for its high-quality products and service that meet international standards and worldwide customers' requirements. To serve its worldwide customers well, NEXCOM, headquartered in Taipei, Taiwan, has set up seven subsidiaries in the United States, the United Kingdom, France, Italy, Germany, China, Japan as well as distributors in the other parts of the world. You can also visit their website at http://www.NEXCOM.com.