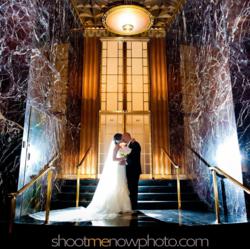 Whether you are planning an intimate or grand affair for 2013 or beyond, we encourage brides and grooms who are in the planning stages to visit our Open House and see why we were voted as one of the Top 5 Wedding Venues in the Bay Area
San Francisco, CA (PRWEB) March 29, 2013
The City Club of San Francisco recently made the Bay Area A-List as one of the Top 5 Best Wedding Venues in the San Francisco Bay Area, and for good reason. Every detail of the space – from the Art Deco style to the professional event and catering services – provides the perfect setting for a flawless and romantic celebration.
Couples are invited to experience the site's unique offerings first hand during a complimentary Open House on Tuesday, April 9 from 5:30 to 7:30 pm.
During the event, couples can sample champagne and taste hors d'oeuvres made by Executive Chef Michael Muñoz, as well as meet the staff and several of The City Club's service vendors. Couples will also be able to see the venue set up reception style.
"Whether you are planning an intimate or grand affair for 2013 or beyond, we encourage brides and grooms who are in the planning stages to visit our Open House and see why we were voted as one of the Top 5 Wedding Venues in the Bay Area," said Associate Club Director Kathy Sanders. "And if you already have your venue chosen, why not consider our 12th Floor Penthouse with sweeping views of the city for your rehearsal dinner?"
The City Club of San Francisco is the premier choice for a wedding venue with classic elegance and stylish sophistication in a city drenched with romance.
Located in a historical building in downtown San Francisco, this private club offers some of the best views, interior décor, and catering and event services available.
Couples will see why this masterpiece of Art Deco architecture is a favorite among photographers. Not only does it have roof access with incredible views, but the interior boasts original artwork, like the stately Diego Rivera fresco adorning the walls of the grand staircase, and classic finishing touches, like the bronze-framed elevator doors and marble fireplace, which effortlessly deliver picture-perfect backdrops.
Each of its ten unique event rooms located on four floors can be staged according to a couple's dream wedding vision. Professional event planners are also available during the big day to ensure everything goes smoothly. From getting ready to getting the party started, The City Club staff helps keep a natural flow every step of the way.
During the Open House, couples will be able to see all of these details that combine to make The City Club of San Francisco a standout wedding venue in the Bay Area. For more information about The City Club or the Open House, call (415) 675-1549 or visit cityclubsf.com.
About the City Club of San Francisco (CCSF)
The City Club of San Francisco (CCSF) is a private club and party venue that plays host to elegant San Francisco networking events and personal gatherings. CCSF specializes in undeniably fabulous San Francisco wedding receptions, rehearsal dinners, bridal and baby showers, corporate events and meetings, networking events, awards dinners, seminars, workshops, retirement parties, anniversary parties, birthday parties, Bar/Bat Mitzvahs, alumni receptions, social galas, holiday parties and fundraisers.
In addition to its own world-famous art and architecture, CCSF actively promotes the art and culture of San Francisco through collaboration with premier arts and cultural organizations to bring unique programs to the Club and its membership.
CCSF members include business, government and community leaders who are actively involved in San Francisco and Bay Area civic affairs. One of the ways that the Club actively supports these activities is by providing a public forum to civic and business leaders to discuss events affecting the City and its people.