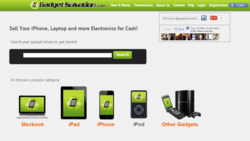 Devices such as the iPhone 4S 16GB will be offered at a discounted price of $299 and up. Deals like this are not even found eBay
Chicago, IL (PRWEB) March 30, 2013
Launched in early 2008, Gadget Salvation (http://www.GadgetSalvation.com) offers consumers an easy way to sell their electronics online. The company started with purchasing primarily laptop computers, soon expanded its purchasing catalog to include a wide range of consumer electronics, such as: iPhones, iPads, MacBooks, mp3s, smartphones, gaming consoles and video games
In mid-April 2013, GadgetSalvation.com will start offering a variety of used electronics for sale through its website, at discounted aftermarket prices. The company concentrates on listing mainly Apple products (such as iPhones, iPads, iPods, Macbooks) and some other high end laptops, ultrabooks and e-Readers. All gadgets are guaranteed to be tested, fully functional and in great cosmetic condition.
The company is also constantly seeking ways to improve their website design, making sure it looks and operates well. Facebook login option has already been implemented, hoping to simplify registration process for its users.
Gadget Salvation, LLC is headquartered in Chicago, IL. The company's mission remains the same since its foundation: offering an easy way to sell used electronics at the best cash value possible, with a Quote Matching Guarantee.