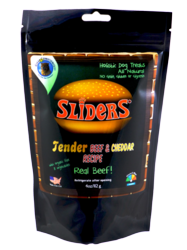 Most people love going to a local pub or bistro for a snack and to relax, so why not bring that same feeling to a delicious healthy dog snack?
Wilton, CT (PRWEB) March 29, 2013
Clear Conscience Pet has recently been recognized with their sixth award for nutritional excellence and innovation; but the company is by no means resting on those laurels. Instead, they have gone even further with their mission of creating uniquely healthy breakthrough products with new Sliders Tender recipes, dog snacks so wholesome and cleanly sourced that the owner of the company says he eats them himself. The new 100% made in the USA treats come in both Sliders Tender Chicken and Sliders Tender Beef recipes, both of which are made with natural cheddar cheese, organic flax, and air dried veggies for enhanced nutrition and taste appeal.
The company says that this new line represents a major breakthrough in the way moist treats for pets are made. The challenge of making moist meaty treats has led to the almost universal use of glycerins, propylene glycol, potassium sorbate, and other preservatives designed to keep moist treats shelf stable.
Clear Conscience Pet founder Anthony Bennie contends that by listing these ingredients on labels with innocent sounding names such as "vegetable glycerin" companies are being less than forthcoming with consumers. "The gummy texture that is typical in soft treats is largely because of the use of syrupy glycerin in these formulas. Glycerin also has a sweet taste and can raise blood sugar levels, which is especially concerning if a dog is diabetic or pre-diabetic.
The widespread use of glycerin in pet treats has not received nearly enough scrutiny; how can a manufacturer call a product made with glycerin all natural when it does not appear naturally in the food stream?" Most glycerin used in pet treats is a by-product of the manufacturing of soaps.
Clear Conscience, in keeping with their natural sourcing pledge, refused to employ these methods and instead underwent a three year research and development process to reinvent the soft-moist pet treat category. The result is a trade secret, however the company reveals that success of the project depended on a proprietary formulation, a natural preservation method, and special packaging technology.
But the trademarked Sliders® brand name and package artwork has raised some eyebrows within the natural and holistic pet nutrition world. With a package that looks like a pub chalkboard, and a burger bun in the logo, the product is unlike other all natural pet treats. "The Sliders lifestyle image is our way of saying that the very best pet nutrition doesn't have to be boring or tasteless," says co-founder Amanda Malone Bennie. "Most people love going to a local pub or bistro for a snack and to relax, so why not bring that same feeling to a delicious healthy dog snack?"
The Sliders line also includes Crunchy Chicken and Crunchy Beef snacks. "We cook the Crunchy version for dogs who love a harder treat,but they are still grain free and loaded with the highest levels of meat protein available in a crunchy treat," said Amanda Bennie.
The treats will be available at independent pet supply outlets, online retailers, and the company's own website.
About Clear Conscience Pet®, LLC
Clear Conscience Pet® is a multiple award winning pet nutrition company that developed the Sliders® treat line, the SuperGravy® line of pet food enhancing gravies, OSV™ nutrient enhanced treats and chews, and Cruncherz™ Organic Gluten & Grain-Free Dog Biscuits. The company is based in Wilton, Connecticut and is family-owned by Founders Anthony Bennie and Amanda Malone Bennie. They currently market their pet food products to pet supply retailers, veterinarians, health food stores, and other pet specialty outlets.
Web address: http://www.clearconsciencepet.com
Facebook page: http://www.facebook.com/Clear.Conscience.Pet.LLC
Video interviews with Founder, Anthony Bennie: visit:
http://www.clearconsciencepet.com/ccp-tv