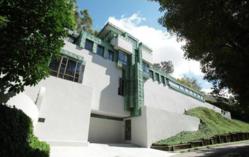 The Novarro House is a magnet for enthusiasts who appreciate art, architecture, and history
(PRWEB) March 29, 2013
With a celebrity history, the estate has been home to Hollywood's elite including Ramon Novarro, composer Leonard Bernstein, Diane Keaton, and Christina Ricci. Known as one of the most significant architectural estates in Los Angeles, the Novarro House is a magnet for enthusiasts who appreciate art, architecture, and history. Set on a promontory in The Oaks, the home has been meticulously restored to keep the architect's original vision intact. The highly published home features concrete floors, stark white walls, and oxidized copper finishes. Designer details include dramatic windows, period Lloyd Wright fixtures and two master suites. With a perfect in-and-outdoor flow, this home exemplifies the Southern California lifestyle with swimmer's pool, professionally landscaped gardens, multi-level terraces, and beautiful views.
With an historic past, the Novarro house stands as a testament to timeless architecture and serves as a beacon on a hill looking to the future.
About Aaron Kirman and The Architectural Estates:
Aaron Kirman, Executive Director of Hilton & Hyland / Christies International Real Estate, is one of the leading real estate agents in the USA and has repeatedly been named one of the top agents in Los Angeles. He has an extensive client base featuring those who seek the luxury lifestyle including heads of industry, celebrities, royalty, foreign investors and major lending institutions. As a prominent figure in the luxury real estate market, Aaron has received international acclaim from the architectural and estate communities and represents some of the most exclusive residences across the globe including: Frank Lloyd Wright's Ennis House, Frank Gehry's Schnabel House, Lions Gate by Paul Williams, and the only Oscar Niemeyer in North America. Aaron is often featured in various media outlets including Bloomberg, NBC, The New York Times, The Los Angeles Times, Variety, The London Times, E! Entertainment and CBS.
For more information on Aaron Kirman, please visit http://www.AaronKirman.com.