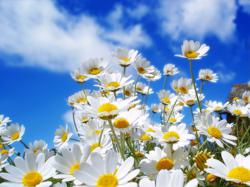 A body cleanse to start the Spring season will leave the body recharged, rejuvenated, and renewed.
Arlington, VA (PRWEB) March 30, 2013
Spring is finally here and it's time for Spring Cleaning. In addition to reorganizing closets, putting away winter clothes, and cleaning the garage don't forget to do some cleansing of the body. While Spring cleaning around the house will give you some relief, don't forget to do some Spring cleansing for peace of mind and a healthier body. Cleansing the body will detoxify the inner body to rid it of toxic build up. A body cleanse to start the Spring season will leave the body recharged, rejuvenated, and renewed.
There are plenty of natural options available to help rid the body of toxic buildup throughout the year. Below are five foods to help detoxify the body and easy ways to incorporate them into your daily meal plan.
1. Flax seeds contain alpha-linoleic acid, a heart-healthy omega-3 fatty acid that appears to improve how the body uses insulin, the hormone that clears sugar from the bloodstream. They also have soluble and insoluble fiber, which helps promote bowel regularity, eliminate excess toxins, cholesterol, and waste. Add ground flaxseeds to oatmeal, smoothies, and soup for an extra cleansing boost. Try this tasty Flax Seasoning smoothie recipe for a nutritious boost.
2. Leafy green vegetables have high amounts of chlorophyll that help swab out environmental toxins (heavy metals, pesticides) and is an all-around liver protector. Leafy greens can be easily added into the diet by eating them raw, sauteing them, or adding them to a smoothie. Here is a recipe from Flax Seasoning for a delicious Sesame-Garlic Wilted Green Salad.
3. Lemons are loaded with vitamin C. Vitamin C is considered to be a strong detoxifier since it helps convert toxins into a water-soluble form that is easily flushed out of the body. An easy way to include lemons into your day is to add fresh lemon to your water or enjoy a nice tall glass of refreshing lemonade. It is good for the body and taste great too.
4. Garlic has many beneficial effects on the body, one of which is aiding in liver cleansing. Its liver cleansing ability is attributed to its high amounts of allicin and selenium. Fresh garlic can be added to a number of things such as sauces and spreads or it can be diced and added to meats or vegetables.
5. Psyllium is rich in soluble fiber which helps mop up toxins and bad cholesterol. It helps absorb excess water and promote normal bowel elimination. Try stirring powdered psyllium into juice or it can be sprinkled onto food for additional fiber. It will help promote digestion and cleanse the colon.
According to WebMD, you should also include "cleansing boosters" such as herbal laxatives, probiotics, and antioxidants. Also add Relaxation techniques -- massage therapy, sauna, aromatherapy baths, deep breathing exercises, walking – to help round-out the cleanse.
Flax Seasoning creates innovative seasoning blends by combining flax seeds with unique spice and herb combinations. Their products use organic ingredients, are vegan, gluten free, and non-GMO. Connect with them on Facebook (http://www.facebook.com/FlaxSeasoning).