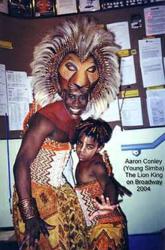 AMTC has been the starting point for many successful artists.
Atlanta, GA (PRWEB) March 30, 2013
For the past 31 years, non-profit Christian ministry Actors, Models and Talent for Christ (AMTC) has been scouting the country, searching for actors, models, singers, dancers and comedians who are called to become positive role models.
Due to popular demand, the team will be screening local talent in the following cities: Birmingham AL, Denver CO, Fort Collins CO, Colorado Springs CO, Minneapolis MN, Atlanta GA, Chattanooga TN, Dallas TX, Green Bay WI, Nashville TN, Maryland DC, Tulsa OK and Oklahoma City OK. Auditions are free of charge.
Each audition is hosted by a scout who is both trained in spotting emerging talent and equipped to inspire performers to a higher calling in the world of entertainment. AMTC's scouts are industry professionals who believe in mentoring the next generations of upcoming artists.
Founded in 1982, by supermodel Millie Lewis and her daughter Carey Lewis, Actors, Models and Talent for Christ is a mission and a movement that provides aspiring performers with professional direction, industry introductions and spiritual preparation so they can shine for Christ in the entertainment industry.
With hundreds of successful grads like Mathai from 'The Voice', two 'America's Next Top Models' (Cari Dee and Whitney Thompson), Steven "tWitch" Boss from 'Step it Up Revolution', Ben Davies from 'Courageous' and Aaron Conley as Young Simba from 'The Lion King' on Broadway, AMTC has been the starting point for many successful artists. AMTC's services teach talented people what they need to know and connect them with the industry pros and executives who can create larger opportunities.
To register for an upcoming event, please visit http://www.amtcaudition.com/