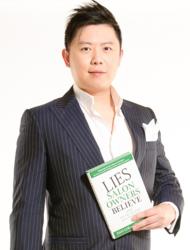 When you have a business you love, when you are passionate about what you do, learning how to market your salon online is just one more headache you don't need.
Ordlando, Florida (PRWEB) March 30, 2013
Striving to continue the mission of introducing effective marketing programs for Salon owners in North America, FullyBookedWebsite.com recently announced the introduction of a brand new salon software and salon marketing platform which allows salon owners to reach more potential customer while producing effective results to help grow their salon businesses even in a struggling economy.
The website FullyBookedWebsite.com is a recent business venture of renowned salon business expert Dan Lok and his highly successful Salon Business Expert business that has introduced highly effective marketing and business expansion efforts to hundreds of salon owners worldwide. Widely celebrated as the Salon Business Expert®, Dan Lok was recently named as one of America's Premier Experts®. He is armed with a proven track record of helping salon owners dramatically increase their income and profits while working less, being recognized for his expertise in the field of salon marketing and management by several industry leading publications.
This new online marketing program is aimed at providing hair & beauty website design and several powerful salon marketing programs that allows every salon business owner to not only reach potential customers, but drive them to visit and choose their business for all their salon needs.
"When you have a business you love, when you are passionate about what you do, learning how to market your salon online is just one more headache you don't need," stated Lok, who is regarded as one of the most trusted and business development coaches in the beauty industry.
"With the launch of our new website FullyBookedWebsite.com, our mission is to introduce new salon software and salon marketing programs that not only reach your potential clients, but convert those leads into actual sales. Our "Done-For-You" services take the guesswork out of filling your appointment book."
As noted above, Lok and his team of award winning business and online salon marketing experts have years of experience in providing effective health and beauty website design and salon software targeted to complete online marketing programs that produce results. Some of these programs include social media activation, search engine optimization, mobile application development, salon website integration and more.
"The power of online marketing for any business have well documented in the past few years, but there are several questions that smart salon owners must ask themselves," stated Lok. "You've got a hair & beauty website design that looks great, but where are all your clients? You know you should be doing Social Media but where to start? Do you need a Facebook page or other social media platforms? However, the biggest and most important question they often ask is how on earth is a salon owner supposed to know what to do, let alone find the time to do all this stuff, run your salon AND have a life? Our company is proud to help all salon owners answer these important questions."
For more information on how your salon can benefit from the expert salon software and salon marketing team assembled by Dan Lok, please visit http://www.fullybookedwebsite.com