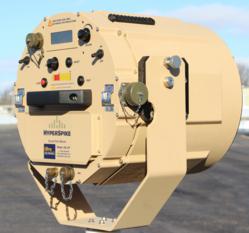 Our team will have the chance to meet with current business partners and develop new partnerships with potential customers and companies."
Columbia City, IN (PRWEB) March 29, 2013
Ultra Electronics – USSI announces today it will be displaying HyperSpike technology at the 2013 ISC West trade show, Booth: 9140.
ISC West is the leading US exhibition and conference serving the electronic physical security industry. The trade show brings more than 1,000 international and domestic security product manufacturer companies and more than 25,000 security professionals to Las Vegas each year. The HyperSpike team will display various Acoustic Hailing Devices (AHDs) and Mass Notification Systems (MNS) products.
HyperSpike's AHDs are highly directional speakers that have the ability to communicate with a target up to 3000 meters and beyond. Combined with an extended frequency range to ensure authoritative voice commands, HyperSpike AHDs have the best speech intelligibility of any directional speaker. USSI's MNS products offer the best size to weight ration and can relay voice messages and alert tones across a 7 square mile radius.
"We are excited to be displaying at the trade show this year," said James Martzall, Business Development for HyperSpike Products, "Our team will have the chance to meet with current business partners and develop new partnerships with potential customers and companies."
Ultra Electronics - USSI is an innovative global supplier of highly intelligible, ruggedized, long range acoustic communication devices, and high power and commercial speaker arrays. Being deployed world-wide, these products are used in diverse applications such as crowd control, mass notification, border/port security, law enforcement, maritime security, perimeter protection, and more. To find out more or request a demonstration, please visit http://www.Ultra-HyperSpike.com