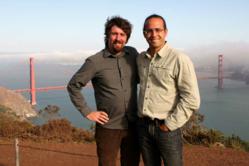 The power of film is proven to encourage real change locally and abroad and coming together to be inspired together is what this film festival is all about
(PRWEB) March 29, 2013
After last year's highly-successful Deconstructing Dinner Film Festival, it was an easy decision for festival director Jon Steinman to bring this now-annual festival back to Nelson, British Columbia. The highlight of this year's show will be the screening of episode 1 of the one of the Deconstructing Dinner: Reconstructing Our Food System television and web series.
Starting April 4, 2013, the Festival will run over three days at three different venues and will feature 11 films.
"I'm tremendously excited to host this film festival once again," says Steinman. "The power of film is proven to encourage real change locally and abroad and coming together to be inspired together is what this film festival is all about."
The April 4th launch party at The Royal will feature Nelson's Brent "The Oysterman" offering his 2-buck-a-shuck or $20-all-you-can-eat oyster bar – fresh from Cortes Island. Adding to the fun, Ariah Desilets of Ariah's Edible Creations will be on hand with a festival first – a Perogy Bar. Featured films that night include The Mud and the Blood, PEROGY! and Smokin' Fish. Music from Clinton+1 will tie the evening together.
Headlining the 2013 festival on April 5th at the Capitol Theatre will be the world premiere of the premiere episode of Deconstructing Dinner: Reconstructing Our Food System. Writer and host Jon Steinman (from Nelson) and producer Declan O'Driscoll (Toronto) have been hard at work travelling across North America to create this six-episode series and extensive multimedia project. This first episode is about wheat and features a long line-up of Kootenay locals. Also featured that night will be the short film Artisan Baker. Following the premiere, the feature-length Hungry for Change will be shown.
On day three of the festival, Saturday, April 6th, the Civic Theatre will host it's first film festival since re-opening its doors after a three-year closure. Four feature-length films will be screened: Sushi: The Global Catch, Bitter Seeds, Big Boys Gone Bananas!*, and the Canadian production The Chocolate Farmer. Local chocolate makers Raw Dragon Chocolate, Belicious and Ambrosia Chocolate will have tables set up with samples and products on offer that night.
"From day one, the Deconstructing Dinner project was inspired by the people living here in the West Kootenay," says Steinman. "It means a lot to me to be able to share this latest incarnation of that inspiration with everyone who supported this work from its early days on Kootenay Co-op Radio."
For more information on the festival log on to http://www.deconstructingdinner.com or contact Jon Steinman at jon(at)steinman(dot)com. Tickets are available at Otter Books in Nelson.
The attached photo shows producer Declan O'Driscoll (left) and Jon Steinman host of Deconstructing Dinner: Reconstructing Our Food System.