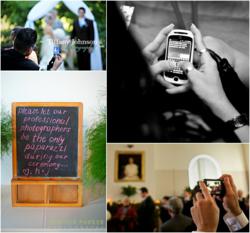 Gone are the days of the long boring wedding video. I encourage all my clients to allocate a portion of their budget to video so they can share the joy with family and friends, especially with those who would have liked to be there but couldn't be.
Delray Beach, FL (PRWEB) March 29, 2013
Once upon a time, Weddings were merely symbols of love and commitment, of romance and tradition. And then along came Technology. They knew not of each other for quite some time, until Technology met Wedding. After a long courtship with photography and video, Wedding made a life-long commitment to Technology and the rest is history. Or at least it will be.
Couples today open their wedding doors to the entire world, as they broadcast the wedding live through their social networks. While most couples hire professional wedding photographers and videographers to capture these moments, invited loved ones will inevitably be shooting and snapping away from their smartphones, too.
Mobile apps allow wedding guests to upload the photos and videos they take to an online gallery for all to share. Social media sites such as Facebook, Twitter, Instagram and other social media outlets all have tools and features that allow sharing freshly taken photos and video in real time. In addition, some have provisions for easy cropping and color correcting before it has even been posted. Tagging, downloading and printing from a mobile app provide even more sharing options.
Video is no stranger to Weddings, and has most recently become a high priority item, even for weddings on a budget. Video can tell a three-dimensional story, like nothing else can. Gone are the days of the long boring wedding video. Videographers of today make short films that capture and summarize all the special moments of the day in creative, cinematic style.
Video, too, has found its way into other parts of the wedding world. "Save the date" announcements, once known only in a still format now live and breathe.
Not only that, but capturing him on one knee and her saying "yes" on film that lasts forever has also become a hot wedding trend. And what better way to tell a couple's story, then a slideshow video made by bride and groom, to be shown to guests during the wedding reception?
Technology and Wedding. An unexpected pair, but suited for each other, none-the-less, and likely to live happily ever after.
Expert planner, Aviva Samuels of Kiss the Planner, is available to speak with the media about wedding planning, wedding trends and more. An array of wedding services, including full service wedding planning, destination wedding planning, wedding coordination and signature wedding design are available. For more information on Kiss the Planner and Aviva Samuels go to: http://kisstheplanner.com.