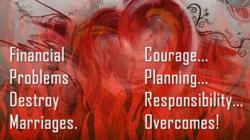 Roanoke, VA. (PRWEB) March 29, 2013
It was bad enough in January when the 2% payroll tax increase stripped everyone of cash they counted on. All indicators are pointing to 2014 healthcare costs increasing 20% to 80% according to this recent article in Forbes. This could mean hundreds of dollars less each month. The impact is sure to cause stress and pain for millions or people. With financial problems a leading cause of divorce, this dramatic rise in healthcare costs will surely take a toll on marriages. Mark Jala, author of an upcoming book promoting communication during family meals, offers tips on how to avoid, deal with and triumph over financial problems in a marriage.
"It is painful to see marriages destroyed because of money problems. The sad truth is that many of the financial problems faced throughout the country today are self-inflicted wounds. We simply spend too much. We max out our credit cards. We live on nearly 100% of our income. How did we ever come up with that financial plan?" says Jala. On his blog, Cook, Talk, Love, Mr. Jala recently wrote a thorough article entitled How to Avoid and Resolve Financial Problems in Marriage. The article covers communication tips to separate financial problems from a loving relationship, and financial tips that offer a plan for the youngest of children to those embattled in financial misery. See the article here.
Yesterday Mr. Jala issued a press release offering tips on dealing with financial problems and how to avoid them. One of the key tips he offered was to pick up the book by George Clason called The Richest Man in Babylon. Mr. Jala says "I wish I read that book when I was a teenager. It would have helped me through some difficult times. Adults at any age or financial circumstance can benefit from the book. It teaches a financial strategy that nearly assures financial success."
By preparing now Mr. Jala says that families can avoid the stress and anguish caused by money problems. By taking measures now marriages can continue to build loving relationships. It develops character in the partners. It demonstrates to each partner they are taking responsibility and willing to fight through difficulties.
To prepare for the higher healthcare costs in 2014 Mr. Jala offers several important tips. "The first thing to do is to set aside a specific time to talk about the finances and allow each partner to prepare for the discussion. Family meals are an excellent time to discuss finances especially if the meal was prepared by all family members working together as a team. Second, get the finances organized. Anyone who doesn't have all their bills and paperwork filed away needs to develop a filing system. Third, know exactly what the finances are like. How much extra is there each month, or is there a shortage? Fourth, plan on a doubling of healthcare premiums. What impact will that make on the finances? Fifth, plan now for the increased expenses by cutting back on extra luxury items. Put the saved money into a savings account so it can be used next year when the increases happen. Lastly, start thinking about how the family can increase income and take steps now to make it happen. Whether a part time job or a side business, the extra income will help counter the negative impact of the healthcare premium increases."
About Mark Jala and Cook, Talk, Love
Mark Jala is available for interviews and speaking engagements. Book him for your show today. He is available on short notice via telephone. Mark Jala writes for http://www.CookTalkLove.com and is writing his first book about using the family meal as the perfect setting for constructive family communication. Sponsors please contact Mr. Jala by email or phone for full details.