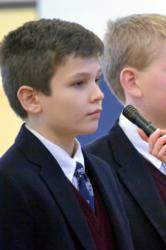 "Brian is an excellent ambassador of Everest Academy who models the leadership skills imparted here."
Ms. Gamache, Principal at Everest Academy
Lemont, IL (PRWEB) March 29, 2013
Brian Trochuk, an eighth grade student at Everest Academy in Lemont, triumphed as the first place winner in the Knights of Columbus Regional Spelling Bee Competition and will advance to the Illinois State Finals April 6th.
Brian, son of Lynn and Michael Trochuk of Homer Glen, was surprised with his win. "I didn't think I studied that hard, but maybe all those years of phonics and vocabulary made the difference," admitted Brian. His winning word was "preposterous" at the Regional Competition on March 16th in Mokena. The Annual Spelling Bee Competition is sponsored by the Knights of Columbus Catholic Men's Fraternity and is open to all boys and girls of middle school age.
Brian began Preschool at Everest Academy of Lemont under its former name White Pines Academy. Everest hosts a school-wide Spelling Bee Competition each year including students from Kindergarten through eighth grade, seeking classroom champions and grade level winners. Brian made top honors at the school spelling be on January 18th correctly spelling the word "beatitude." Brian's eighth grade teacher, Mr. James O'Keefe, stated, "Brian is an excellent student. He excels in all of his classes, but is an especially good speller."
"Brian is an excellent ambassador of Everest Academy who models the leadership skills imparted here. He is a well-rounded leader who excels in academics, is a fine sportsman, a talented presenter and one who has a heart of service for helping others. We are proud of his accomplishments," stated Ms. Gamache, Principal at Everest Academy.
Everest Academy is an independent Roman Catholic school in Lemont, part of the Archdiocese of Chicago, educating children from preschool through eighth grade. The teachers and staff are dedicated to forming the whole child by providing the highest level of academics, by building strong character, and by preparing generous leaders ready to serve the community. If you would like to learn more about Everest Academy's unique approach to education, please contact Coleen Mast at 630-243-1995 or visit http://www.everestadvantage.org.