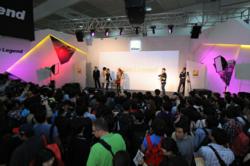 Visitors to P&I 2013 can experience a wealth of products, technologies, goods and galleries spanning across the global photo and imaging market and culture
Seoul, Korea (PRWEB) March 29, 2013
The 22nd Photo and Imaging Seoul is to incorporate the very latest in global digital and analogue photography trends, alongside a host of supplementary events and experience-based learning workshops, from April 4-7 2013 at Coex. Photo & Imaging, and the concurrent Seoul Photo exhibition, will showcase products and galleries from all corners of the global photography industry in an event boasting over 650 booths and countless top brands.
The show will also include a host of innovative international exhibitors aiming to expand their business into the Korean market.
San Francisco's Academy of Art University, the largest private school of art and design in the US, is just one of the overseas participants at this years' show. The AAU offers a range of degree programs in 21 areas of study including Animation, Art History, Fashion, Photography, and Web Design. Visitors to P&I 2013 will learn about the school's faculty of top professionals, state-of-the-art facilities, and course options on offer.
Hong-Kong based Lap Shun has a thirty year history in the manufacture and design of top-quality camera and video bags. ISO 4001 certified and with a mission to create products in harmony with the environment, Lap Shun will showcase its exciting collection of camera, phone and computer bags, cases, wallets and accessories at P&I 2013.
Noov Design was born out of the desire to create original products in line with contemporary market trends. Whether in its range of camera bags, straps, lense pouches, compact pouches, and cases, or IT-themed products such laptop and smartphone cases, the Noov Design team's attention to detail has resulted in an eye-catching and function range of products, available for visitors at P&I 2013.
Pixel Enterprise Limited, will showcase a variety of top-of-the-range DSLR camera gadgets and technologies, developed by some of the industry's leading designers and engineers, while Spider Holster will reveal its unique DSLR carrying system – a fuss and hands-free ergonomic solution to camera carrying – at the show.
Yong Nuo from China will also exhibit over ten years of expertise in the development and retail of professional photographic equipment, through a range of camera accessories, flash lights, and remote controls.
Both beginners and professionals are urged to come and check out Photo & Imaging 2013, as it offers something for everyone interested in photography, whether as a hobby or a career. Over 300 brands will participate in the show, including annual participators Samsung, Nikon, Canon and Olympus, as well as service providers Saeki P&C and Fuji Film Korea. Photo and Imaging will cover the entire spectrum of the industry, from filming, development and printing, to digital broadcasting and editing software and equipment, 3D technologies, storage devices, and studio apparatus. Visitors looking for a bargain buy can also benefit from the many discounted items expected to be on sale.
Exciting concurrent events include a New Media Wave Zone, the Smart Accessory Show, the 'Family, Camping and Photo' gallery, Seoul Photo show, Photo Book Fair, in-house Photo Studio, and a Photo & Optics special showcase, plus many more. New for this years' exhibition is a concurrent event promoting corporate responsibility, 'Dream Camera', which includes photographs from a project created together with children from underprivileged countries worldwide.
For a full break down of exhibitors, and concurrent events, please visit the website http://www.photoshow.co.kr/english. For a 50% discount on admission visitors may purchase their tickets from either http://ticket.interpark.com/2013 or Ticket Monster http://wvvw.ticketmonster.co.kr/deal/16228413/102329 (Korean) before April 2. Tickets are 10,000 KRW on the door. Open 10am -6pm.
For information please contact Vicki Baik on jybaik(at)coex(dot)co(dot)kr or telephone 02-6000-8003.