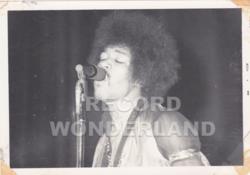 "Paper like this, original photos and old handbills, are hard to find because few were made and fewer survived."
(PRWEB) March 29, 2013
Unseen Jimi Hendrix photos, unique jazz memorabilia and extremely rare records have all made their way to Record Wonderland, and now they are being made available to longtime collectors and novices alike.
Record Wonderland, an online music seller, is selling the Hendrix photos along with a set of photos featuring the Grateful Dead performing in 1969, and several other pieces of music history. The photos were obtained from a private collector.
The Hendrix photos were taken at a concert held at Keil Auditorium in St. Louis. The unknown photographer must have had remarkable access, as they snapped a number of close-up and back stage shots of Hendrix as he performed.
"We've had Jimi Hendrix Concert photos, but this batch is really nice and this seems to be their public debut," said Steve Young, the operator of Record Wonderland.
There are several pictures from the Hendrix show. Many are currently being sold individually on ebay, along with unpublished Grateful Dead photos from the same era.
The photos include most of the band's lineup at the time, including some nice shots of the late Ron "Pigpen" McKernan.
There is also rare paper documenting classic American jazz.
"We now have some very rare handbills and from concerts and events in Chicago and other cities," said Young. "Few were made and very few survived."
Record Wonderland is selling some other remarkably rare pieces this week, including: An original sealed Mint Monophonic pressing of the TV soundtrack for Dr. Suess' The Grinch Who Stole Christmas, an original pressing the very rare soul jazz funk classic John Minnis' Big Bone Band, a set of privately produced heavy metal cassettes, some hard to find reel to reel tapes and much more.
The company is trying to highlight some of these items in a new YouTube video.
Record Wonderland has thousands of vinyl records in stock, as well as other audio-related wonders at eBay and Discogs.