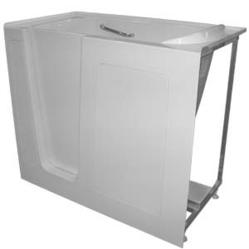 These padded seat risers can add extra comfort and ease of use for bathers utilizing walk in bathtubs.
New York, NY (PRWEB) March 29, 2013
A leading retailer for walk in tubs and handicap shower stalls announces innovative padded seat riser made especially for senior bathtubs. This unique aging in place technology is specially designed to enhance walk in bathtubs.
These specialized padded seats can add a couple inches to the overall seat height, which can potentially help some bathers come to their feet more easily. Most conventional walk in bathtubs have an internal seat height of 17", however some models only offer a 15" seat height or even lower. This unique aging in place product is a welcomed alternative for bathers seeking a higher seat with their walk in tubs.
According to Aging Safely, the padded seat risers are universal to most walk in bathtubs on the market and can be purchased individually. This specialty product has suction cups on the bottom side and can be attached to most acrylic or triple gel coated walk in tubs. The seat risers require very little maintenance; however bathers will want to keep the suction cup free of any build up for best performance.
Senior bathtubs aren't only designed for senior citizens; they can be a wonderful addition to the home for people of all ages. Warm air hydrotherapy comes standard on most walk in bathtubs offered by Aging Safely and can be enjoyed by anyone. Air hydrotherapy differs from traditional water jets and can be a very unique experience for bathers. Warm air hydrotherapy doesn't utilize water within its motor or pump; instead it forces warm air through small dampeners or check valves, which disperse the air into tiny champagne size bubbles.
The bubbles rise from below and typically within the seat as well, Experiencing hydrotherapy can be described as a sensation of effervescence. Hydrotherapy can come in many forms and has been used as a homeopathic approach to wellbeing for many centuries. Walk in bathtubs with hydrotherapy is a relatively new concept. Customers can now enjoy this spa type of luxury within the comfort and convenience of home. Handicap shower systems currently offered by Aging Safely do not come with any jetting options as they do with the walk in tubs.
The company will be offering the padded seat risers for walk in bathtubs at a discounted price through the month of March. For this promotion the company will be offering shopper's significant savings off of regular retail prices. Senior bathtubs, handicap shower stalls and safety grab bars are products shoppers should consider when looking into aging in place products and technologies.
Aging Safely supplies walk in tubs, handicap shower stalls, transfer bathtubs, bathtub lifts and safety grab bars to all 50 states and Canada. Customer care representatives are available for no obligation consultations. Shoppers interested in learning more about these unique aging in place products are invited to contact Aging Safely.
Contact Information:
Zach Wennstedt
1-888-779-BATH(2284)
info(at)agingsafelybaths(dot)com