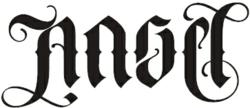 We wanted to make creating an awesome ambigram tattoo as easy as possible
Jackson, NJ (PRWEB) March 30, 2013
Students soaking up the fun and sun of spring break from Daytona Beach to Cancun are discovering new ways to enjoy the pleasures of the flesh. Far away from parents, deans and other authority figures, many spring breakers are deciding to get tattooed on the spot in what has become a spring break rite of passage. Their new ink then serves as their best conversation starter.
While the popularity of the lower-back butterfly tattoo and the tribal arm band have been declining in recent years, the popularity of ambigram tattoos has been rapidly rising, especially in traditional spring break destinations. Ambigram tattoos are word designs that can be read as two different names, words or phrases depending on the direction from which they are viewed. Until recently, ambigram tattoos were only available as expensive and time-consuming custom designs. However, new technology that creates these designs on-demand has made designing a new ambigram tattoo as easy as typing at a keyboard.
"We wanted to make creating an awesome ambigram tattoo as easy as possible", says Mark Hunter, the President of FlipScript.com, the company behind the technology. "It's great that students on spring break love our designs."
FlipScript has tapped the ambigram expertise of John Langdon, one of the inventors of the ambigram art form, in order to create its artwork. John Langdon created the ambigrams for Dan Brown's "Angels & Demons" novel and movie, and is the namesake behind the Robert Langdon character played by Tom Hanks.
Due to FlipScript's on-demand ambigram technology, the price of a custom ambigram tattoo has dropped from the market rate of $80 down to less than $20. In addition, the wait time for a finished design has come down from several days to under ten seconds.
One common theme for spring break partiers is to create an ambigram tattoo that expresses multiple sides of their personality, like an ANGEL / DEVIL ambigram.
When discussing what happens during the annual spring break ritual, Harmony Korine, the director of the just-released film "Spring Breakers" starring Selena Gomez, Vanessa Hudgens, Ashley Benson and James Franco, said:
"People get in their cars, drive down to Florida or fly down to Cancun... to destroy everything, have sex, do drugs - a complete beach debauchery. Then they get back in their cars, go back to school and pretend to their parents it never happened," Korine stated. "It's been going on for decades."
The only evidence they bring home of their spring break debauchery are their tan lines, new ink and memories... and two of those disappear with time.
Spring break partiers can create an ambigram tattoo at FlipScript.com.