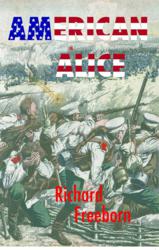 "It is as a soldier that you make love and as a lover that you make war" - Antoine de Saint-Exupery
London, England (PRWEB UK) 31 March 2013
A full house at Pushkin House in London's Bloomsbury Square as the highly respected author Richard Freeborn holds sway over an audience made up of members and guests of the Great Britain - Russia Society to discuss the background to his new novel American Alice.
Freeborn has translated for members of the Supreme Soviet and British prime ministers. Dame Helen Mirren took his translation of Turgenev's A Month in the Country from London to New York in 1995. She said of her success then that 'it was much to do with his wonderful translation' and that she had 'lived with his words with such pleasure and fun'. As she announces plans to take to Broadway in 2014 her stage role as the Queen, advising British prime ministers in Peter Morgan's smash hit play The Audience, Dame Helen has made the time personally to inform the author that she has been reading American Alice with great pleasure.
American Alice has as its background a crucial episode in the early twentieth-century and is set in China at the time of the Russo-Japanese War. It is the story of a passionate love between an Anglo-American woman of mixed-race lineage and a Russian doctor amidst the chaos of the bloody Russian defeat by the Japanese in war torn Manchuria.
Freeborn's talk was entitled 'American Alice in the Russo-Japanese War'. Freeborn was concerned mostly with the Russo-Japanese War, culminating in the disastrous Battle of Mukden in February-March 1905 and which has been authoritatively described as 'one of the greatest in history measured by the number of participants' (at least 300,000 troops on either side, with Russian total losses numbering 156,000 by one estimate), the final act being the sinking of virtually the entire Russian Baltic Fleet by Admiral Togo in the Straits of Tsushima in May 1905.
It is against this merciless background that the heroine Alice May accompanies two recently orphaned teenage children to China to join their uncle. It was planned that he would then take them across the Pacific to their respective homes in the United States. The war, unexpected Russian defeats and the poor state of the uncle's health cause a change of plan, and the book sensitively explores a range of relationships, culminating in showing how a young woman like Alice can suddenly be so outraged by injustice that her boldness earns the respect of everyone round her.
She is recognised as the heroine of the moment, an American Alice who defies all the perils of defeat and deserves to be carried shoulder-high in triumph - much as Helen Mirren herself will deserve to be in 2014 on Broadway, no doubt! The distinguished audience on this occasion, present at the invitation of David Holohan editor of the East-West Review, included Daniel Salbstein OBE, Lady Jeanne Sutherland, Professor Michael Holman, Dr Jane Grayson and several of Freeborn's eminent former students.
American Alice is available in the UK from all good bookshops, on amazon.co.uk and at http://www.dynastypress.co.uk/books.html
About Richard Freeborn
Freeborn's qualifications are principally academic. After service in the RAF and postwar work in Germany, where he also attended Goettingen university, he graduated from Oxford, did doctoral research and was posted by the FO to the British embassy in Moscow, joining what was called the Secretariat. Invited back to Oxford, he became a don and spent ten years there as tutor and lecturer before being offered a professorship at UCLA. This was followed by a professorship at Manchester University and finally appointment to the chair of Russian literature at London (SSEES). In the course of his career he gained an MA, a DPhil (Oxon), a DLitt (London), emeritus status and taught twice in California, interpreted for many major figures, including prime ministers and members of the Supreme Soviet, and travelled fairly widely in the Soviet Union in the immediate post-Stalin period, although in later decades he found he was persona non grata and not granted visas. He married his wife Anne, an embassy colleague while in Moscow, and they have four children and seven grandchildren. As for the background of American Alice, his great interest is in the Russian revolutionary movement. He was employed by MGM to monitor the English translation for the screenplay of Doctor Zhivago.
About Dynasty Press
Dynasty Press, founded in 2008, is a boutique Publishing House specializing in works connected to royalty, dynasties and people of influence. Committed to the freedom of the press to allow authentic voices and important stories to be made available to the public, Dynasty Press boldly publishes titles which reveal and analyse the lives of figures who are often, but not always, placed in the upper echelons of international society. Recent Dynasty titles include the New York Times Best Seller, The Untold Life of Queen Elizabeth the Queen Mother (jointly with St. Martin's Press) by Lady Colin Campbell, Dangerous Score by Mike Bearcroft (published to benefit The Hillsborough Family Support Group) and Brighton Babylon by Peter Jarrette. Forthcoming publications include Terry Cooper's Death by Dior.
For interviews and more information please visit dynastypress.co.uk or contact executive(at)dynastypress.co.uk
American Alice by Richard Freeborn
ISBN: 978-0-9568038-2-5
Pages: 110pp
Publisher: Dynasty Press Ltd
RRP £10.99
Available for purchase on Kindle £7.78 and free to borrow on Kindle Prime