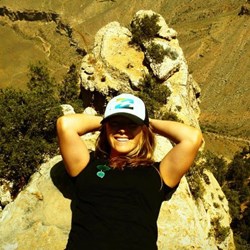 It's seeing them succeed that keeps me coming back
(PRWEB) March 31, 2013
Kaylie Corrigan has been a guide for the Outdoor Adventure Company for close to a year. Roy Duprez, CEO of Back2Basics states, "She has demonstrated excellent leadership and contributes genuine enthusiasm for these young adult men seeking recovery from drug and alcohol addiction." The long term rehabilitation center uses the outdoors and wilderness as a sort of therapy; making sure there is a solid outdoor adventure team is essential. Recently, after proving her dedication and devotion to the company, Back2Basics announced the promotion of Kaylie Corrigan to Outdoor Adventures Supervisor.
Corrigan has an extensive background in Wilderness Therapy and is a true mountaineer in her own personal life. She thinks that being outdoors is essential to the Back2Basics program. "In the outdoors the guys are away from everything they know—cell phones, computers, friends—it is that isolation that gives them the opportunity to get back to their basic needs… gives them the chance to get back to basics," states Corrigan. She goes on to say, "The feeling of accomplishment the guys feel after reaching the top of the mountain, or making it through a class 10 rapid is something they'll remember forever. It's seeing them succeed that keeps me coming back."
Graciela Del Moral, co-founder admits "It can be challenging to work in this field of recovery with this demographic. But we owe it to these struggling young adult addicts new in sobriety, to demonstrate strong leadership and accountability on all levels." The company knows that despite the challenge, Corrigan will set a good example for these young men, and will continue to lead them down the path of recovery by doing what she does best.