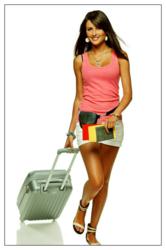 The new hands-free
Henderson, NV (PRWEB) March 29, 2013
Hipzbag has a QVC 5 Star rating and finds itself very popular with the traveling crowd. Cash, ID and Credit Cards remain secure and easily accessible with this waist bag. Setting itself apart from other waist bags is that it is fashionable as well. It attaches to the body, making the traveler virtually hands free . A cellphone fits snug in an open pocket for easy retrieval, while a passport, camera, money, credit cards plus more fits in a zippered compartment.
This bag screams Disney World or Cruise Boat, those memorable occasions when a traveler would rather use their hands for luggage, children, or experiencing the sites rather than lugging that heavy purse.
When vacationing, the question is always whether to carry that big purse around. It can be uncomfortable, causing shoulder pain after a long day of sight seeing. Setting a purse down can leave items available for theft, giving the traveler much more time in the lost and found than on the beach. Hipzbag® carries just what you need for a day on the beach or a night on the town.
"It is very rewarding when we get a call from a customer that says that our little bag has literally changed their vacation experience in a positive way", said Hipzbag® creator Kathy Crifasi. "These comments keep us inspired."
Hipzbag® comes in different sizes, shapes and colors. It is a big upgrade from the fanny pack so popular in the 80's-- this is the hipper, cooler fanny pack that can be worn on your belt loops with patent pending hooks or with an adjustable matching waist strap.
About Hipzbag®
Creator, Kathy Crifasi, computer nerd by trade, created the Hipzbag® purely out of necessity. Walking around holding her cellphone, wanting it to be attached to her body—Kathy could not find a solution, so she designed one! Hipzbag® is a product of Hip Shift Corp, a company bringing to market functional fashion products for the everyday woman. Shop online at http://www.MyHipzbag.com.