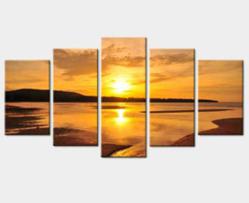 (PRWEB) March 29, 2013
Today, the popular online art supplier Artisoo.com adds new canvas painting sets (wall art) to expand its comprehensive range of home decoration catalog. Besides the items of oil painting reproduction, Chinese painting and photo to art, artisoo gallery offers a huge choice of canvas painting sets, range from abstract canvas sets, animal canvas sets, botanical canvas sets, landscape canvas sets, figure canvas sets and still life canvas sets at http://www.artisoo.com/canvas-sets-c-1367.html. Every oil painting set is created on canvas by their experienced artists with the finest material in our studio emphasizing the importance of aesthetics, technique and style.
Artisoo.com, the leading art company in China, announces that it has brought in canvas painting sets into the market. The company is widely recognized as one of the leading online art company in Europe, serving oil painting reproductions and original Chinese painting. For this spring/summer sales program, the company has decided to kick off with its huge sets of oil paintings. This choice to bring these wall art products which are usually favored by people who want to have the original painting sets to kick off a new sales program.
The CEO of Artisoo Company, Vincent Zhou, said, "Well, this is a new try. Artisoo oil painting sets which are the hand-painted original ones are always things of all seasons. The sales are not necessarily restricted by weather consideration or even market trend. There is always a big pool of consumers who are constantly on the lookout for such products. We did our sum, and we are confident this decision is going to have a positive impact on our business. Art décor business is tough and one needs to be forward thinking to drive the business ahead."
The new canvas painting sets, totally more than 1000 sets, are categorized by subject, color and width. Consumers could pick their favorite ones according to their different room décor needs. For example, viewing from the room tone, space could be generally roughly divided into white, warm colors and cool colors; there is no taboo of canvas painting set for white colored room, while warm colors and cool colors for the main body of the room one need to choose the opposite tone of the painting. If the room is in warm colors, then the best choice of color for canvas painting set cool is blue, green, and vice versa.
With more than 100,000 wall art products to choose from, Artisoo gallery, the home décor retailer is a premier shopping destination for hand painted fine art online. Spice up ambiance of one's home, start form artisoo.com. For more info, please visit http://www.artisoo.com