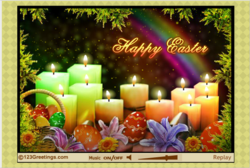 This ecard epitomizes the perfect expression...It contains a simple yet powerful message... pleasant visuals... apt mood-setting music to uplift the spirits. This is what people want on Easter Sunday. - Arvind Kajaria, Founder, 123Greetings.com
New York, NY (PRWEB) March 29, 2013
Since 1997, when 123Greetings.com, Inc. was formed, users have loved sending various kinds of ecards – from the popular animated gifs of the 90s to video ecards of the more recent times. While many other innovations are being tried, some ecards are timeless and manage to win the hearts of people consistently. For Easter 2013, 123Greetings.com reveals the all-time favorite Easter ecard.
Added to the library three years ago, this ecard housed under the Happy Easter sub-category has been viewed by over 500,000 and sent by over 200,000 people, with an approximate 40% send to view ratio. It has been liked by 99% of the users and rated 4.3 on a 5-point scale by over 2,000 people. Overall, 2.98 million senders sent Easter ecards in the past three years, from 123Greetings.com.
Arvind Kajaria, Founder of 123Greetings.com, says, "This ecard was designed by our expert in-house design team, and epitomizes the perfect expression at 123Greetings.com. It contains a simple yet powerful message supported by appropriate and pleasant visuals, finished with the apt mood-setting music to uplift the spirits. This is what people want on Easter Sunday."
The all-time favorite Easter ecard at 123Greetings.com can be found at http://www.123greetings.com/events/easter/happy_easter/easter69.html.
Easter greetings on 123Greetings.com feature a wide range of cards across 15 categories, including cards featuring Easter Bunnies and Easter Eggs. The selection presents over 600 expressions to choose from.
About 123Greetings.com:
123Greetings.com is the world's leading online destination for human expressions reaching over 95 million visitors annually. Drawing from its tag line "Free Greetings for the Planet" the service exemplifies the notion that the best things are free in our planet and so should wishes, greetings and personal expressions be. Its offering of over 37,500 greeting cards covers a mix of 3,000 seasonal & everyday categories.
For details visit 123Greetings.com