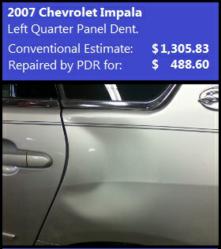 ...a great many PDR-possible large dents were being lost to conventional repair under the outdated estimating method.
Cheyenne, WY (PRWEB) March 29, 2013
For decades in the United States and around the world, skilled Paintless Dent Repair (PDR) technicians have been removing large dents from automotive panels, but inconsistencies in the traditional estimating methods have kept these repairs from being standardized in the industry. A recently-introduced estimating system (Sullivan PDR Estimator™) has solved these problems by making it easy for anyone to produce an accurate estimate quickly and easily. This paves the way for PDR to become a standard repair for larger dents, just as the adoption of a formalized system of estimating for PDR hail damage repair revolutionized the industry beginning in 2003.
In an open letter to the Paintless Dent Repair industry (read it here) PDRJunction.com founder Jack Pelham calls upon the PDR industry to rethink its traditional methods of estimating for large dents. Pelham states, "Whether we like it or not, the fact of the matter is that insurers are not excited about working with a subjective estimating system such as many retail and route techs are using. As a result, a great many PDR-possible large dents are being lost to conventional repair because of this outdated estimating method."
The most popular old method of estimating for large dent PDR is detailed in Pelham's letter. (Read it here.) In it, the PDR technician decides how much money he or she would like to make per hour, and then multiplies that by the number of hours a certain repair is expected to take. Taking issue with this method, Pelham points out that "the value of the repair [should] be rooted in the measure of the actual damage, and not in the speed or skill of the technician who is doing the repair."
The Sullivan PDR Estimator™, of which Pelham is a co-inventor, does exactly that: it takes into account the length and width of a dent, along with several easily-identifiable "difficulty factors" in order to calculate the value of a dent's repair. With this system, even a novice with minimal instruction can accurately estimate a large dent in under two minutes. This means that insurers and body shops can finally produce PDR estimates themselves in an easy and consistent manner, greatly relieving the current hassle of having to bring in a PDR technician just for an estimate.
"PDR for large dents is the best-kept secret in the industry," said Pelham in a later comment. "Insurers and vehicle owners save lots of money, body shops can profit more from it than from conventional repair, and it saves the environment from paint, dust, and panel replacement."
About PDR Junction™
PDR Junction (PDRJunction.com) is an information clearinghouse for the Paintless Dent Repair industry. It includes industry articles and several industry directories, including PDR Companies, large dent PDR Companies, PDR tool manufacturers and sellers, and so on. PDR Junction is owned by Thinkulus Media, LLC, of whom Jack Pelham is a co-founder. Thinkulus Media also owns HailReporter.com, a hail alerting and reporting service that offers both free and paid services to those interested in hail events in the 48 contiguous United States. Customers include insurers, body shops, PDR professionals, and roofing companies. For more information on PDR Junction, please visit http://www.pdrjunction.com.
About Sullivan PDR Estimator™
The Sullivan PDR Estimator™ web application is a Patent-Pending software created by co-inventors Jim Sullivan and Jack Pelham. The service launched in June 2012 after several years in development and an exciting introduction to the automotive industry at the 2011 NACE Exposition. The system includes two separate applications: one for estimating dents of any size, and the other is customized for hail damage. For more information on SPDRE, please visit http://www.sullivanpdrestimator.com.