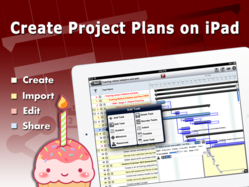 Awesome Project Management App - Excellent app! Helps me to update and track projects. - Num Ber (App Store Review)
Mystic, CT (PRWEB) March 29, 2013
Project Planning Pro was launched a year ago today in what has been a year of learning, listening, changing and most importantly growing. We are celebrating the first birthday by dropping the in-app upgrade price to $5.99 (was $19.99) for iPad and $0.99 (was $3.99) for iPhone.
A year is a long time in the app ecosystem and Project Planning Pro has crossed many important milestones in this time span.

It achieved best ranking of 2nd in Business Category (US App Store)
It won the BestApp Ever Awards "Best Business App" - Runner-Up at MWC Barcelona
A total of 6 major updates in 12 months
312 reviews with average rating of 4.5 for the current version (US)
We are looking forward to year 2 and have lined up many new features and updates like Custom Calendar and Hours Scheduling.
Stay tuned on Facebook - http://bit.ly/projectplanningpro
Testimonials and Reviews:
Awesome! - This is a great app - exactly what I was looking for to be able to work on a plan on the go. The app is intuitive and offers a variety of features and I love how it allows the export to different formats.
- Roh C (United States)
Great app - I love using this program for my construction projects.
Great app! - I use it every day for my work. It allows me to manage all my projects.
- Jean Bernard Miglietti (France)
iTunes Download link:
Project Planning Pro iPad – http://itunes.apple.com/app/project-planning-pro/id509886186
Based in Mystic, Connecticut, i2e Consulting is a software services company providing innovative Enterprise solutions to clients across the Globe. i2e Consulting is a Microsoft Certified partner with niche in Portfolio Project Management. i2e Consulting Mobile division is developing on iOS, Android and Windows Apps.
Copyright © 2012 i2e Consulting. All Rights Reserved. Apple, the Apple logo, iPhone, iPod and iPad are registered trademarks of Apple Inc. in the U.S. and/or other countries. Microsoft and Microsoft Project are registered trademarks of Microsoft Corporation in the U.S. and/or other countries.