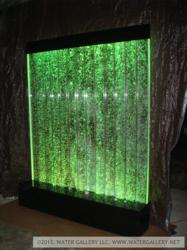 Tallahassee, FL (PRWEB) March 30, 2013
Water Gallery LLC is the leading source for bubble walls and bubble panels in the United States, and they have recently joined forces with Frank Entertainment and Revolutions Entertainment to include amazing Bubble Walls and Bubble Panels for their upscale family fun centers. With several locations across America including West Palm Beach CityPlace, and fun centers in Bethlehem Pennsylvania, Rock Port South Carolina and Syracuse New York, these upscale fun centers include fine dining, luxury bowling, video games, sports theaters, live music and entertainment and much more.
Water Gallery LLC along with Revolutions Entertainment is adding several bubble walls to improve the decor and enhance overall customer experience. West Palm Beach CityPlace is the most recent project and is expected to open for business in May of 2013. It will feature a unique twenty foot wide by four foot tall bubble system that includes colorful led lighting and a dynamic appearance. The visual effect is astounding and is expected to form a lasting impression on all visitors.
Revolutions Entertainment is an extension of Frank Theaters and offers fun and entertainment for all members of the family. The goal is to provide a "one stop for all" entertainment facility with video games for kids, excellent food and service, live shows including music, theater, comedy and a variety of performances along with a luxury bowling alley and sports theater. Revolutions Entertainment is expanding across the country and is certain to offer fun for everyone to enjoy.
The décor of Revolutions Entertainment is unlike anything we have seen before. They offer a friendly and inviting atmosphere that includes luxury amenities, top quality furniture and fixtures, leather couches throughout, several large flat screen TVs, five star dinning and alcoholic beverages and theater for live entertainment. Furthermore, the facilities include a great environment to watch and enjoy sporting events with several bars and lounges throughout each location.
Water Gallery LLC is proud to join forces with these incredible family fun centers and will display bubble walls and bubble panels at each location. Bubble walls have become increasingly popular because they offer a dynamic and unique visual impact. Many customers enjoy the amazing effect of swirling bubbles and color changing led lighting. These bubble features can be used as divider walls to separate rooms, or they can be mounted against the wall similar to large paintings or artwork. Bubble walls have become a great alternative to waterfalls and fountains because they are very durable, require low maintenance, easy installation, and most importantly, they create a visual effect unlike anything you have seen before.
Take the time to visit one of Revolutions Entertainment facilities and enjoy fun and entertainment for the entire family. The pricing is reasonable, the experience is incredible, and the atmosphere is breath taking. Water Gallery LLC offers bubble walls for both commercial and residential needs. If you want to add something truly amazing and dynamic to your atmosphere, then the addition of a Water Gallery LLC bubble wall is the perfect choice. It is sure to form a lasting impression and impress all of your visitors.