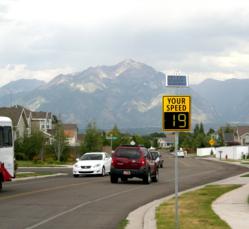 We already have six of them, and we plan to buy four more.I can't think of a better way to prove how pleased we are.
Pleasant View City, UT (PRWEB) March 29, 2013
When the Pleasant View City police department first invested in two SafePace 100 radar signs to replace their aging speed trailer, they had no idea what a part of the city landscape these signs would become. Now four signs later, city residents, police, and council members have all come to love the compact speed display signs that protect their streets. The city plans to purchase four additional SafePace 100 signs in the next two years.
In the past, the city used a large speed trailer that was towed from location to location, spending only a few days on each street. In an effort to be more proactive in controlling speed, the city researched their options and after speaking to other satisfied customers, decided to try two of the Traffic Logix SafePace 100 radar speed sign. They chose this model because of the excellent quality it offered at a surprisingly low price point.
The first two signs the city used were purchased with the optional data collection feature, which Chief Scott Jackson used to review speed data and assess how well the signs worked. Pleased with what he found, the Chief ordered two signs the following year and another two this year. The signs have been given semi-permanent homes on local streets but are moved occasionally as needed. The lightweight speed signs are portable and can be remounted with a universal mounting bracket in as many locations as needed.
Five of the signs were placed on main entrance and exit roads in and out of the city with 30 mph speed limits to remind cars to drive safely as they enter and leave Pleasant View. The sixth sign was placed on one of the city's longer residential streets, with a speed limit of 25 mph, which historically had excess speeding on it.
While the first two signs were purchased with battery power, they are being retrofitted with solar power, and the remaining four signs were purchased with solar panels. The city has found the solar option to be cost-effective and efficient in powering the signs.
"Not only are the signs themselves wonderful," said Chief Jackson, "but Traffic Logix was a pleasure to work with. The sales rep always made himself available and tech support addressed any concerns we've had quickly and efficiently."
Local residents have expressed their gratitude to the city for taking a proactive approach to safer streets. They are pleased with the aesthetically pleasing signs that protect their streets from speeding and accidents. The SafePace speed signs have also been well received by the City Council members and Police Department as well as the local Mayor's office, which has appreciated the many unsolicited comments they have received from pleased residents.
The local police chief, Chief Scott Jackson, sometimes drives an unmarked car around the signs to gage people's reactions to them. He has found that almost all speeders hit their breaks to slow down as they see the radar signs display their speeds.
The City plans to purchase two additional signs in the coming fiscal year and two in the following year. The new signs will be placed on more rural streets with speed limits of 35-40 mph. The city also plans to do major construction in coming years and plans to use the radar signs to slow traffic on surrounding streets.
"We already have six of them, and we plan to buy four more," said Chief Jackson. "I can't think of a better way to prove how pleased we are."
Traffic Logix manufactures a complete line of traffic calming solutions including compact and full size radar signs, speed trailers, rubber speed humps and cushions, and rubber curbing.