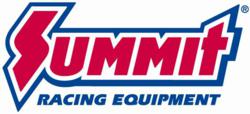 Tallmadge, OH (PRWEB) March 30, 2013
Summit Racing offers these new parts from Pfadt Race Engineering and VaraRam to improve the performance of GM's popular Camaro:
Pfadt Race Engineering Handling Systems for Camaro
These systems are fully engineered to increase performance and maintain a comfortable street ride.
STAGE 1
This system provides a low, aggressive stance with a firm, yet smooth ride. It includes front and rear coil springs and a larger rear sway bar with bushings and mounting hardware.
STAGE 2
This kit adds a front sway bar to further reduce body roll compared to the Stage 1 system. In fact, testing proves this is one of the most well-balanced suspension packages on the market.
STAGE 3
This system builds on the primary upgrades of springs and sway bars by adding additional components to address the deficiencies of the OEM rear suspension. It stabilizes the rear end to eliminate wheel hop, and increases cornering ability by minimizing slop in the rear suspension.
COMPLETE RELEASE AND HIGH RESOLUTION IMAGE
VaraRam VR-SS Super Street Air Systems
VaraRam's special high-flow airhorn is positioned directly in front of the throttle body for maximum aerodynamic efficiency. The systems also include an elliptical neck with a rifled barrel design, plus a front wing with several vortex generators for balanced and equalized airflow.
COMPLETE RELEASE AND HIGH RESOLUTION IMAGE
Summit Racing Equipment
http://www.SummitRacing.com
1-800-230-3030