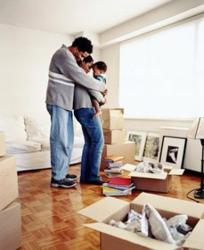 moving made easy with apartment movers
(PRWEB) March 29, 2013
Colorado Apartment Moving Company has whatever packing materials their customers require. Their training Apartment Moving Company professionals can pack your belongings for a client or give them advice on how to best pack their own household items. Whatever the needs of the individual client, call their trained expert estimators to discuss options and fit services to that need.
Apartment Moving Company Colorado has a work force of full-time, professional movers. Registered with the State of Colorado, bonded and insured, clients can be confident that they provide a high standard of service best tailored to their moving needs. While their on-site services typically include packing, haul, and unloading, they even provide trained estimators dispatched directly to a client's home to evaluate their moving needs better. All the guesswork and incidental costs are taken out of the equation when they move people.
Here are some of the wide varieties of services that they can provide to clients:
Full Service packing and moving - Apartment Moving Company is affordable, whether you are relocating local or long distance. They provide packing, hauling and unloading within a client's budget, customized to way they want to be moved. As qualified professionals in the moving industry, they assist with any specific need associated with the moving them safely and efficiently to their new location.
Protecting the client's belongings - Their expert movers can move a client's furniture, with specialized tools, out of the tightest of places, easily. They always take the utmost care to protect the client's belongings and the apartment they live in, both the one they are vacating and the one they are moving to. They even pad the hallways and make use of specialized rollers and plastic skids to guarantee that protection.
Local moving expertise - With Apartment Moving Company Colorado, the client gets a local moving company, familiar with neighborhoods and traffic patterns. This ensures a quick local move so that the client can get moved and settled quickly, avoiding significant interruption to their daily lives. The company's expert estimators can provide local moving information and dispatch to clients' professionals that have the knowledge to get a local move done.
About Colorado Apartment Moving Company:
ApartmentsMovers.com has worked with individuals and families searching for a stress-free, cost effective move completed with care that only our professionals could provide.