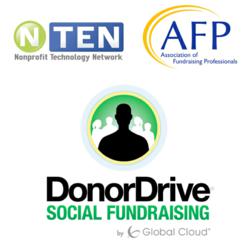 DonorDrive has really aided us on what we're able to do with a connected generation.
Cincinnati, OH (PRWEB) March 29, 2013
DonorDrive Social Fundraising Software will be at the Association of Fundraising Professionals Conference (April 7-9) and the Nonprofit Technology Conference (April 11-13) to talk to non-profit organizations about how innovation can dramatically improve their fundraising. Non-profits from across North America are headed to the two conferences (each the largest of its kind) to learn about the latest ideas and technology in fundraising.
Three areas that non-profits are especially concerned about this year are:
1) Motivating their campaign and event participants to raise more through peer-to-peer fundraising
2) How social sharing can boost the success of an event through better engagement and more donations
3) Bringing the power of mobile technology to their fundraising
As fundraising software, DonorDrive provides innovative solutions for these three concerns. DonorDrive developed the industry's first Fundraising Motivation Engine™, designed to individually coach each participant to raise more. This advanced technology gives non-profits freedom from spending staff hours on coaching constituents how to be effective fundraisers and allows more time for staff to connect with them on a personal level.
DonorDrive has automatic social sharing that's deeply integrated with social media out of the box. Recent research shows 17% of DonorDrive's donations are coming through social channels. DonorDrive client Zac Johnson, Director of Youth Marketing for Children's Miracle Network Hospitals, depends on the software's connection with social media for his program's fundraising success. "DonorDrive has really aided us on what we're able to do with a connected generation. With Dance Marathons you'll notice how we're completely integrated into social media through DonorDrive, even something as simple as a tweet that automatically goes out when someone donates." Zac also credits DonorDrive with contributing to Dance Marathon's growth of over 80% in the last three years. These events generate $10 million annually through DonorDrive on 150 college campuses.
DonorDrive's responsive mobile technology is also a point of focus. This year mobile-friendly fundraising pages have been the big talk within the industry. With Mashable reporting that tablets will outsell desktops this year and Gartner reporting smartphone sales up 38%, mobile browsing is now the preferred method in North America. Nonprofits are scrambling to make sure their online fundraising pages are as effective on mobile as they are on the desktop. DonorDrive's innovative responsive mobile design has been very appealing to non-profits since it's built into the software and doesn't require non-profit staff to do any setup or configuration.
DonorDrive is also sharing expertise at these conventions. Paul Ghiz, Managing Partner of Global Cloud, makers of DonorDrive, will co-present a session at AFP on peer-to-peer fundraising with John Clese of Avectra. Non-profits can speak with Paul and learn more at the DonorDrive booths at both AFP and NTEN or contact Geoff Curless (gcurless(at)globalcloud(dot)net) Director or Sales and Marketing for DonorDrive to set up a personal meeting at either conference.

DonorDrive® is truly effective software dedicated to event-based social fundraising for medium and large non-profits. Children's Miracle Network Hospitals, Doctors Without Borders, Autism Speaks Canada and Team ASPCA are a few of the causes that use DonorDrive Social Fundraising software for their runs, walks, rides and virtual campaigns to engage constituents and maximize donations. Every year, people are raising millions for great causes through DonorDrive. Learn more at DonorDrive.com.