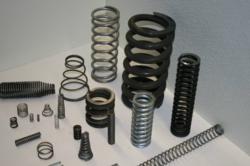 "We are confident that no one knows the business better or knows how to serve their customers better than we do."

~Jack Davis
Denver, CO (PRWEB) March 30, 2013
AAAA Specialties recently announced the acquisition of new machinery, enabling the spring manufacturing company to produce a wider range of springs for both the pharmaceutical and aerospace industries.
AAAA, already a leader in spring manufacturing, is now equipped for pharmaceutical spring production. Applications may include metal components for home medical equipment, rehabilitation equipment, wheelchairs, mobility aids and respiratory equipment. Plus, AAAA-produced springs may contribute to concentrators, nebulizers, compressors, syringes and injection devices. AAAA looks forward to partnering with valuable providers of patient care.
Also with this acquisition of new equipment, AAAA is pleased to provide spring manufacturing to specification for aerospace projects. These aerospace applications are safety-critical and require precision. The unique springs are low in weight, low in volume, perform with high strength, resist corrosion and have a wide temperature capacity.
With this new equipment, AAAA builds on its history of high-quality spring manufacturing. Present offerings include custom manufacturing of compression springs, extension springs, wire forms and torsion springs.
The company currently manufactures springs for many industries, including agricultural, automotive, aviation, chemical, construction, electrical, fitness, food processing, machinery, marine, mining, oil and petroleum, optical, packaging, railroad, safety, sporting and more. Now, AAAA adds aerospace and pharmaceutical applications to the list.
"We pride ourselves on providing high quality springs and the best customer service around," says company president Jack Davis. "We are confident that no one knows the business better or knows how to serve their customers better than we do."
Springs are manufactured in a wide variety of materials. Choices include Beryllium Copper, Chrome Silicon, Chrome Vinadium, Elgiloy, Hard Drawn, various Iconel metals, various Monel metals, Music Wire, Oil Tempered, Phosphor Bronze and Brass and several Stainless Steel varieties.
AAAA provides its customers with service in all stages of the manufacturing process. The company offers assistance in choosing wire size, finish and material. Plus, AAAA Specialties partners with its customers in design and prototype creation.
A family-owned business since 1962, AAAA Specialties is a leader in spring manufacturing. The company prides itself on well-made products and exceptional customer service.