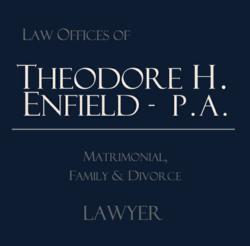 Miami, FL (PRWEB) March 29, 2013
Theodore Enfield, a family law attorney, comments on a new Florida domestic violence laws update. With more than 30 years of experience helping Florida families deal with family law issues such as domestic violence, Theodore Enfield makes sure to guide his clients through issues and to inform them with any law changes and updates.
Attributed to the recent Florida Legislature website release, says Mr. Enfield, Florida Statute 741.28 defines domestic violence as "any assault, battery, sexual assault, or any criminal offense resulting in physical injury or death of one family or household member by another who is or was residing in the same single dwelling unit". According to the Florida State Courts - The Florida Administrative Code has been published as following;
Legal Definitions Used in Florida Law -
Title XLIII - Domestic Relations, Chapter 741 - Marriage, Domestic Violence (see excerpt below)
741.28 Domestic violence; definitions.--As used in ss. 741.28-741.31:
(1) "Department" means the Florida Department of Law Enforcement.
(2) "Domestic violence" means any assault, aggravated assault, battery, aggravated battery, sexual assault, sexual battery, stalking, aggravated stalking, kidnapping, false imprisonment, or any criminal offense resulting in physical injury or death of one family or household member by another family or household member.
(3) "Family or household member" means spouses, former spouses, persons related by blood or marriage, persons who are presently residing together as if a family or who have resided together in the past as if a family, and persons who are parents of a child in common regardless of whether they have been married. With the exception of persons who have a child in common, the family or household members must be currently residing or have in the past resided together in the same single dwelling unit.
(4) "Law enforcement officer" means any person who is elected, appointed, or employed by any municipality or the state or any political subdivision thereof who meets the minimum qualifications established in s. 943.13 and is certified as a law enforcement officer under s. 943.1395.
Mr. Enfield notes that according to the new domestic violence law definition (3), a brother and sister who are close in age and get in a fight, could be charged with domestic violence.
Despite many efforts to curb 'home violence', incidences of domestic violence in Florida are still in high percentage says Mr. Enfield.
To find out more about the Florida legislation that relates to domestic violence and get the latest available information on domestic violence law, please visit the Florida Legislature website, or contact Theodore Enfield's office today. Visit theodoreenfield.com to get more information on Divorce, Florida annulment laws, Florida child custody laws, Alimony, Prenuptial Agreements, Parental Relocation, Paternity Actions, and legal separation.
About - Theodore Enfield, a Miami Dade divorce lawyer, who is well known for providing quality and affordable legal services across South Florida, directs his efforts towards handling all his cases with great determination and complete diligence. So far, he has successfully handled cases of all family, divorce and paternity laws, which have made him the first choice of his clients.
Theodore Enfield practices include Divorce Alimony, Annulment, Dissolution of Marriage, Equal Distribution of Marital Assets and Liabilities, Child Support, Parental Responsibility and Time-Sharing.