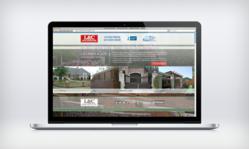 Adding industry leaders to our client portfolio ensures we challenge ourselves to the highest level
Dallas, TX (PRWEB) March 31, 2013
As part of their roster of premium clients, full-service advertising agency mesasix is happy to announce the leading fence and gate contractors L&C Fence and Gate, based out of Dallas, Texas, as their newest client addition.
In the pursuit of only representing the top companies in their respective market, L&C Fence and Gate is only a logical next step. Being responsible for countless high-end wood fences, ornamental iron work, automatic gates and many more projects in and around Highland Park and University Park in particular, they are the perfect fit for an agency which has established itself as an unique, performance-driven group of entrepreneurs.
Family-owned and operated since 1974 and with an outstanding A+ Better Business Bureau rating, L&C Fence and Gate has solidly rooted itself within the greater Dallas community as premium fence and automatic gate contractors. Guiding the entire process from start to finish in-house, with no dependency on third-party contractors, L&C Fence and Gate truly lives up to the adagium of "when you want the best". You can check out their newly revamped website at LCFenceGate.com or give them a call at 214-380-4026.
Relentless and passionate in every aspect of the business, notably website (re)design, search engine optimization, search engine marketing, social media engagement, lead generation and business strategy, mesasix has quickly cultivated a loyal clientele. Lauded for their accessibility, transparency and responsiveness, this young and dynamic team of professionals is responsible for many exciting custom software developments, WordPress plugins and corporate identity rebrandings and relaunches.
As a start-up, mesasix has been making waves from day one. Working with some of the biggest names in the space, like AT&T and Yellow Pages Holdings, they have quickly built priceless relationships in many different industry verticals. Although currently not accepting any new clients, feel free to reach out via email to hello(at)mesasix(dot)com.