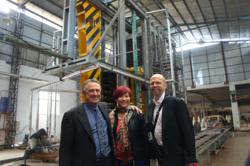 We continue to make every effort to bring to market the best flooring products at the best value through global sources and sustainable practices.
Shanghai, China (PRWEB) March 31, 2013
As the trend in manufacturing globalization continues U.S. companies like CFS Flooring expands their global presence. U.S. sales continue to trend positive as home renovations expand into spring.
CFS executives visit China: Bill Einhaus, Bin Liu and Jerry Balthrop are on a fact-finding mission in China this month. The delegation is keen to inspect existing facilities and expand their manufacturing base.
The invisible hand of capitalism determines best how to allocate resources. World trade benefits consumers when import/export tariffs and regulations remain low so as to not overly inhibit the efficient global allocate of capital, manpower and natural resources. Globalization benefits consumers by maximizing value. Consumers continue to vote with their wallets based primarily on value.
CFS Corporation is an international wholesale distributor of hard surface flooring with offices in Georgia, California and China. CFS offers pre-finished hardwood, engineered, cork and bamboo flooring through over 2,000 representatives and retail locations. For more information about CFS visit their website at http://www.cfscorporate.com or call them at 866-751-6893.
According to CFS Vice President Bin Liu; "We continue to make every effort to bring to market the best flooring products at the best value through global sources and sustainable practices."