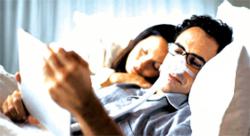 "I have the wisp and it is wonderful.I've had a cpap for 12 years and this is the best mask I've ever had."
–D. Boughton
Asheville, NC (PRWEB) March 30, 2013
There is a lot of chatter around the CPAP world about a brand new mask from Respironics, one of the industries leading companies. In April, Respironics is releasing its latest and greatest new nasal mask, the Wisp. There are many features of the Wisp nasal mask:

Compact design gives a natural fit with a fabric or clear frame.
Great performance of nasal mask with a small design like nasal pillow mask.
Gives patients the ability to watch TV, read, or wear glasses with our obstructing their view.
Allows for all 3 size cushions in one package
CPAP users looking for an alternative to the bigger, bulky masks this mask is the answer to those issues. It creates a good seal while still giving the user independence to enjoy a good book, or favorite TV show. With the variety of options from 3 sizes to fabric or clear frame it is easy to find a perfect fit.
To purchase the Wisp visit CheapCPAPSupplies.com it is available in all sizes and options of headgear. CheapCPAPSupplies.com will deliver the new mask in a timely manner and give reliable customer service, also offering "Live Support" on the main page.