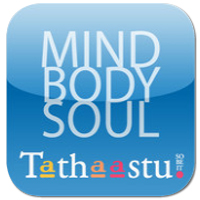 We hope to connect our readers' vibrations to the blessed Tathaastu connections and meditation, wisdom of renowned teachers, holistic healing, peace and serenity, we joyfully say and bring you, Tathaastu: So Be It
New York, New York (PRWEB) March 29, 2013
Tathaastu Magazine is delighted to approach its 7th year in publication, delivering happiness, forgiveness, relaxation and health to readers in over 21 countries worldwide. This year, the team is happy to announce that yoga, meditation, mental and physical health tips are only a tap away with their new mobile app available on iPhone, iPad, and Android.
Tathaastu, referring to the Sanskrit benediction for "So It Be" or "It Shall Be So," celebrates health and harmony in mind, body and spirit. And now readers can have direct access to the bi-monthly publication from just about any location in the world. The magazine provides brilliant advice and articles by experts in spirituality, yoga, meditation, stress relief, food and diet, natural remedies, and even Feng Shui to promote a well-balanced life conducive to wellness and success.
"Tathaastu is a magazine like no other. The beautiful images that portray the essence and soul of the magazine, soothing design, phenomenal clarity and a range of additional features make this iPad, iPhone, and Android app a visual delight," said Georgy Bhaala, Editor-In-Chief.
The universe resonates with blessings through the sound of this mantra. With every wish granted and every dream realized – positive energy, goodwill, and abundance embrace us with the utterance of Tathaastu, the profound mantra.
"We hope to connect our readers' vibrations to the blessed Tathaastu connections and meditation, wisdom of renowned teachers, holistic healing, peace and serenity, we joyfully say and bring you, Tathaastu: So Be It," said Georgy Bhaala, Editor-In-Chief.
The Tathaastu app is free to download and allows the reader to access 20 pages from the magazine for free. It is available on iTunes and Android Market.
For more information about Tathaastu magazine and the life enriching information provided by experts in holistic living and eastern wisdom check out http://www.TathaastuMag.com