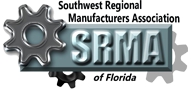 I can't think of a better way to engage and recognize your employees and customer base than to be recognized in this way
Fort Myers, FL (PRWEB) March 29, 2013
The Southwest Regional Manufacturers Association will hold its Inaugural Recognition of Excellence Awards Banquet on April 8, 2013 from 5:30-8:00 pm at the Holiday Inn Airport Town Center.
The SRMA will recognize those nominated for and selected as Manufacturer of the Year and Manufacturing Employee of the Year. The Manufacturer of the Year winner will automatically be in the running to win a state award through the Manufacturers Association of Florida next fall.
According to SRMA President and CEO Betsy Allen, the event is an opportunity for exposure for deserving manufacturers in Southwest Florida, their employees, and their clients. "I can't think of a better way to engage and recognize your employees and customer base than to get recognized in this way. All nominees will walk the red carpet and enjoy a little time in the spotlight," said Allen.
Allen is also excited about the support that the banquet and the SRMA have received from the manufacturing community. "We are excited to announce that Shaw Development and Structure Medical have invested in the future of our association and manufacturing excellence through the sponsorship of our awards banquet," said Allen. "The fact that it's our inaugural event entitles these companies to first right of refusal for next year's awards banquet."
The SRMA is accepting additional sponsorships for this event, which range from a Title Sponsor to Table Top Sponsor. View available opportunities at http://bit.ly/SRMASponsor and contact Betsy at 239.560.2101 or Betsy@srma.net with any questions.
The event includes dinner and one drink. First time guests enjoy the member rate of $75, and non-members and returning guests are $95. To register, please contact Abraham(at)srma(dot)net.
About SRMA
The Southwest Regional Manufacturers Association (SRMA) is a professional organization representing local companies engaged in manufacturing operations producing products for local, national, and international markets. The purpose of the Association is to work together to encourage the economic development of Southwest Florida through manufacturing, close the workforce education gap and to act as a forum for the expression, exchange of ideas and information among its members. To learn more about our Preferred Partner category of membership, please visit http://bit.ly/SRMAPrefPartner.