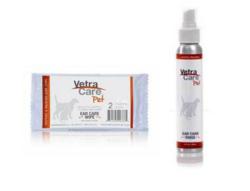 Nixa, MO (PRWEB) March 29, 2013
Ear problems are very common in pets, with most suffering from this condition sometime in their life. If not properly treated, ear problems can progress to painful infections for the animal and costly vet trips for the pet owner. VetraCare Pet has created two new, over-the-counter products, VetraCare Pet Ear Rinse and Vetra Care Pet Ear Wipe, to help clean debris and wax from pet's ears, control odors, and reduce soreness and irritation in the ear canal.
According to a survey by Veterinary Pet Insurance, dog ear problems are the second leading cause of veterinary visits. Wet ears can predispose pets to ear infections, making routine cleaning and drying after a bath, swimming or outside play a necessity for healthy ears.
A small amount of light brown waxy secretion in the ear canals is normal, and some ear wax is necessary for the health of the ears. However, the insides of the ear flaps should be cleaned whenever there is an accumulation of wax, dirt, or debris. The VetraCare Pet Ear Wipe was designed specifically for this, allowing pet owners to wipe away harmful buildup and leaving the ear clean and refreshed.
If excessive waxy build-up, itching or odor is present, an over-the-counter ear cleanser, like VetraCare Pet Ear Rinse, can provide relief and soothe irritation. Simply apply a few sprays into the ear canal to help loosen wax or remove debris, massage the base of the ear to spread solution, and gently wipe out excess liquid from the ear canal.
Co-developed by a trauma & burn surgeon and a Ph.D. biologist, VetraCare Pet products work to reduce inflammation and irritation on pets' skin, paws and ears by removing harmful bacteria and contaminants while maintaining continued hydration and long lasting protection. VetraCare Pet is different than many pet care products, as the ingredients in VetraCare were selected to not only effectively treat the injury or condition, but also work to improve the overall health of the animal.
VetraCare Pet product line is made in the USA, blended in an FDA regulated facility and built using the same advanced technology as our healthy human skin care products, ensuring every step is done not just to pet standards, but to human standards. This creates the ideal solution for pet skin care and ensures your animal gets safe, effective products.
Roger Huckfeldt, MD, FACS
VetraCare Pet Inventor
Dr. Huckfeldt is a board certified general and critical care surgeon with twenty years' experience in a trauma and burn care practice. Dr. Huckfeldt has been involved in the development of products designed to enhance skin care throughout his career, and is well known for his medical research towards the science and mechanism of wound healing. Dr. Huckfeldt also holds a degree in Zoology, allowing him to understand both the human and animal side of improving overall skin health.
Healthy Brands for Life
Healthy Brands for Life was formed on the foundation of creating science-based, laboratory tested products that are safe, effective and economical for any family. Healthy Brands for Life is committed to helping improve the quality of life for you, your family and pets by providing products, information and services so you ALL can have healthier and happier lives.
Healthy Brands for Life was started with a single formulation, a formulation that we knew would serve as the basis for a number of products that are extremely effective while actually being good for your skin and health. This patented technology has been transformed into a wide variety of products designed to better clean, sanitize, hydrate, and protect our customers and their families.
For more information visit http://www.healthybrandsforlife.com.