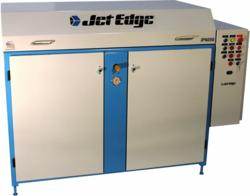 Jet Edge offers the widest range of waterjet pumps on the market.
St. Michael, Minnesota (PRWEB) March 31, 2013
Jet Edge, Inc., a leading manufacturer of ultra-high pressure water jet systems for precision cutting and surface preparation, will exhibit at the 13th China International Machine Tool Show (CIMT) April 22-27 at the New China International Exhibition Center (NCIEC), in Beijing, China. Look for Jet Edge in the Shanghai Golden Arrow Water Jet Equipment Manufacturing Company Ltd. stand W4816.
Jet Edge technical experts will be available to answer questions about Jet Edge's precision water jet cutting equipment and its many applications. Jet Edge's iP60-50 waterjet pump will be on display. The iP60-50 is a 50-horsepower water jet intensifier pump rated at 60,000 psi (4,100 bar). It is capable of producing output pressures from 1,000 to 55,000 psi (3,800 bar) with flow rates of 0 to 1 gallons (3.8 liters) per minute to a variety of abrasive waterjet and waterjet cutting systems and UHP surface preparation equipment.
Jet Edge offers a wide range of precision water jet cutting systems, mobile waterjet cutters and surface preparation tools, including precision waterjet cutting machines, portable waterjet cutting systems, ultra-high pressure intensifier pumps, waterjetting tools and waterjet parts and accessories. Jet Edge has the widest range of waterjet pumps on the market, from 25-280hp, including 36KSI (2500 bar), 60KSI (4100 bar) and 90KSI (6200 bar) models. Electric and diesel pumps are available. Jet Edge also offers custom engineering and OEM integration support.
Based in St. Michael, Minnesota, U.S.A., Jet Edge has a sales, service and showroom office in Shanghai.
For more information, visit http://www.jetedge.com or http://www.jetedge.cn, or call +86-21-5868 2809/3678 or +1-763-497-8700.