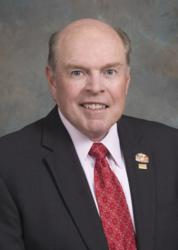 Melbourne, FL (PRWEB) March 31, 2013
Dr. William "Jack" Sidoran, a Space Coast Credit Union (SCCU) Board member and long standing credit union volunteer, passed away March 22, 2013 at age 66 after recently being diagnosed with ALS, also known as Lou Gehrig's disease.
"Sidoran was a credit union volunteer who generously donated his time and talents in an effort to uphold the serious responsibility of the Board to protect our members' interests in all decisions made at the credit union," said Dr. Karen O. Palladino, Board Chairman of Space Coast Credit Union. "His input and leadership will be missed."
Sidoran began with SCCU in 1995 as a credit union volunteer working on the Supervisory Committee, which is now the Audit Committee of the Board. Eventually, Sidoran became the Chairman of that committee. In 2004, Dr. Sidoran was appointed to SCCU's Board of Directors and in 2009 he became Board Secretary, a position he held until his passing.
"Over these last 18 years, the credit union has been greatly benefitted by the selfless service provided by Dr. Jack Sidoran. We have lost a leader of strong will and character, and we will greatly miss him," remarked Douglas Samuels, Space Coast Credit Union's President and CEO.
Sidoran was a Vietnam veteran, having served with the United States Marine Corps, and following active duty service he was a member of the United States Air Force Reserves. For 21 years, Sidoran served as the Chief of Police and Public Safety Director in South Carolina and Georgia, and he served nine years as the Public Safety Director for the Brevard County School Board. Sidoran also worked as a sub-contractor for the Department of Homeland Security, facilitating training sessions for law enforcement executives throughout the United States, and was a university instructor who greatly enjoyed teaching college-level classes for multiple institutions. He received degrees from Florida International University and Nova Southeastern University.
Sidoran is survived by his wife, Dr. Laura Sidoran, and his children, William (III), Cyndi, Tina, Tony, Ty, and Tifton, and his grandchildren. His final resting place will be in the National Cemetery in Beaufort, South Carolina.

Space Coast Credit Union was chartered in 1951 and is headquartered in Melbourne, Florida. The Credit Union serves over 239,393 members with assets of over $3 billion through a network of 57 branches and over 100 ATMs located throughout Florida and through its web site, SCCU.com. Space Coast Credit Union is open for membership to anyone who lives or works in the fourteen Florida counties it serves. Locations can be found at SCCU.com/locations.
###