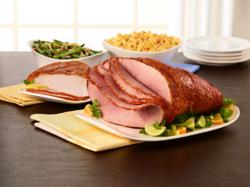 "HoneyBaked makes Easter delicious and convenient for busy families." - Maggie DeCan, HoneyBaked COO.
Atlanta, GA (PRWEB) March 30, 2013
With Easter less than a day away, there is still time for a delicious and easy Easter meal with help from HoneyBaked. Nearly 400 store locations are open late today,* and employees are ready to assist with hams of any size for family meals both big and small.
"It's not too late to make any size Easter meal a memorable one, with stress-free solutions from HoneyBaked," said Maggie DeCan, HoneyBaked** COO. "Because Honey Baked Hams are fully cooked, ready to serve and hand-finished in store with HoneyBaked's sweet, crunchy glaze, a complete Easter meal is as easy as dropping by any one of our store locations."
HoneyBaked offers only the leanest, most flavorful moist and tender bone-in half hams found anywhere – without any added water or juices. But for families looking for a complete meal solution without all the fuss, HoneyBaked stores also carry tender, low fat and gluten free Smoked or Roasted Turkey Breasts and an array of premium sides and desserts, such as Sweet Potato Soufflé, Green Bean Casserole, Carrot Cake and many more.
"HoneyBaked makes Easter delicious and convenient for busy families," added DeCan. "Our heat and serve sides and premium desserts are the perfect complement for any size meal and help ensure that our customers are able to spend less time in the kitchen and more time with friends and family."
For store locations and individual store hours, visit honeybaked.com.

All locations are closed Easter Sunday and hours may vary by location.
** The HoneyBaked Ham Co. of Georgia.
HoneyBaked was founded in 1957 and is a premium food retailer known for the most flavorful, moist and tender Honey Baked Hams® and Turkey Breasts you'll find anywhere, as well as a host of other fully cooked entrees, side items and desserts. HoneyBaked has become a tradition for families nationwide who can now shop at more than 400 HoneyBaked locations. To become a HoneyBaked franchise owner, visit http://www.honeybakedfranchise.com or call 866.968.7424.