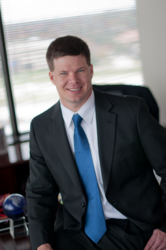 CAPSCIENT brings value to our customers through our focus and commitment to the JD Edwards product line
Irving, TX (PRWEB) March 31, 2013
CAPSCIENT, a leading provider of Oracle JD Edwards integration services and surrounding products, today announced the appointment and promotion of Allen Jacot as CAPSCIENT'S JD Edwards' Senior Director of Technology.
Allen is well known in the JD Edwards community and is highly regarded as a JD Edwards technical thought-leader and strategists. Since 2010, Allen has been leading the technology side of CAPSCIENT's JD Edwards practice and has recently been promoted to Senior Director of Technology now responsible for managing both the JD Edwards applications and technology practices.
Allen has more than 17 years of J.D. Edwards EnterpriseOne implementation experience and has worked with the product since its original beta release. Allen is one of only a few Oracle ACE's; an accreditation given by Oracle to recognize individuals that demonstrate the highest level of excellence in delivering technical solutions to the JD Edwards user community. Allen has led numerous JD Edwards implementation, migration and upgrades for small to large multi-national global enterprises.
"JD Edwards is a tight-knit community, and I have known Allen for many years. I am extremely excited to have Allen help grow our business and drive our corporate vision as he brings a wealth of knowledge and industry expertise", said Mike Morgan, CAPSCIENT co-founder and CEO.
Allen has been instrumental in establishing CAPSCIENT's Center of Excellence (COE) in Irving, TX, where the latest technology and applications are now available to customers for proof of concepts, training and testing. The COE is also used to train CAPSCIENT value practitioners to keep them abreast of the latest technology advancements made with the product. This ensures they remain knowledge leaders in their field of expertise and continue to provide value to their customers.
"With the vast array of options within the JD Edwards product portfolio and ancillary products, Allen is key to assisting our customers with evaluating their options by providing solutions validated by his extensive work with the product", commented Kalanithi Venkatesan, CAPSCIENT co-founder and President.
Allen has co-authored three JD Edwards books including the "JD Edwards EnterpriseOne: The Complete Reference" and is currently publishing his fourth book, scheduled to be released this summer, entitled, "Advanced Tuning for JD Edwards EnterpriseOne Implementations".
Dale Kaplan, CAPSCIENT Vice President of Sales, added that "Allen has been instrumental in developing and supporting new service offerings for the company. Under his direction, CAPSCIENT recently launched CAP-Quality™, a service to provide planning, scoping, oversight and guidance to upgrade customers; in particular those that have decided to use internal resources to accomplish their project initiatives. This low-cost advisory service offering provides extensive value and reduces overall project risk to our customers, by assisting with crucial upgrade approach decisions that could affect the ultimate success of these projects."
CAPSCIENT has utilized its expanded capabilities to share knowledge through Oracle JD Edwards 100 Day Upgrade workshops and is working with JD Edwards customers to expedite their upgrades and migrations. CAPSCIENT has workshops planned in the next few months and welcomes all JD Edwards customers to attend. CAPSCIENT will also be a primary exhibitor and sponsor at Quest's Collaborate conference (Booth No. 624) in Denver, Colorado in April (7th through 11th).
Allen pointed out that "CAPSCIENT brings value to our customers through our focus and commitment to the JD Edwards product line. We solve our customer's business challenges by encouraging innovative thinking and creative solutions, which in turn provides a dynamic work environment for our employees."
ABOUT CAPSCIENT
Headquartered in Irving, TX and with offices in Los Angeles, CA and Denver, CO, CAPSCIENT is one of the nations leading JD Edwards consultancies and value systems integration firms specializing in Oracle JD Edwards services. CAPSCIENT is an Oracle Gold Partner and is certified to implement Oracle's Business Accelerators for JD Edwards EnterpriseOne's latest release.