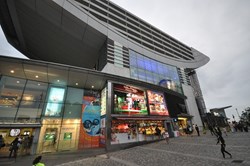 Advertising.my's revolutionary digital touch-screen displays are made using the best materials. Hence, they are very well-suited for use both in indoor and outdoor environments.
Kuala Lumpur (PRWEB) March 31, 2013
Advertising.my has been offering products and services that have benefitted clients from various business sectors for more than a decade now. As 2013 enters into its second quarter, the economy is growing at a very fast pace. Hence, Advertising.my will be offering more services to provide more cutting-edge solutions for its clients to derive more impactful and effective advertising campaigns.
Touch-screen display will be one of the exciting new offerings by Advertising.my. The agency had recently acquired a new technology through development with manufacturers in Korea, China and Germany and will now be able to offer affordable and highly effective touch-screen display screens for the Malaysian market.
Touch-screen displays will bring a whole new dimension of advertising for businesses in the country. This is because this product allows interaction that has not been provided by other conventional media in the past. By using touch-screen displays, advertisers can now provide more engaging messages in this media and allow the customers to reach them easily.
The touch-screen display media is an ideal out-of-home channel that can be used in public spaces like shopping malls, entertainment outlets and buildings. They can be used as information kiosks where customers can seek information about directions. On top of that, these display screens can be used in entertainment outlets like cinemas where they can provide an interactive ticketing and show-time facility.
Advertising.my's revolutionary digital touch-screen displays are made using the best materials. Hence, they are very well-suited for use both in indoor and outdoor environments. For indoor environments, the displays can be customized and specifically designed for a particular theme. On the other hand, the touch-screen displays can be used outdoors where they can be housed within a water-proof and weather-resistant frame, making this media an ideal choice as a tourist navigation system.
Apart from the touch-screen displays, Advertising.my will be launching its new mobile application development services. This is where clients can now engage into the mobile applications sector and tap into the rapidly growing mobile commerce sector. Mobile app can be designed to suit every Malaysian business needs in which Advertising.my will play the role of consultant, designer and developer. Among the options that clients can choose to engage in this area are; augmented reality applications, mobile tracking systems, mobile advertising application and stand-alone mobile applications, among many others.
Advertising.my will be expanding its event management services as well. This is where the agency will be offering complete event management solutions to the partners. Clients who engage Advertising.my for any events or roadshows will enjoy a one-stop agency that will take care of all necessary engagements for the particular programme. This means that Advertising.my will be involved in the entire chain of deliverables of the event. Whether it is a roadshow, an event, a fair or exhibition, Advertising.my will assist the client from conceptualization, design, installation and completion of the entire project. This service is extended for events held both locally and internationally.
Through the state-of-the-art printing facilities that has been upgraded and improved, Advertising.my now offers more revolutionary printing services in Malaysia. This is where businesses can now engage Advertising.my for the printing needs in various shapes and sizes. The agency now has the facility to print large posters and billboards. This service includes booking of media and installation of the prints on the location specified.
The need for more innovative and cutting-edge advertising options has driven Advertising.my to continue pushing the boundaries of conventional advertising. As part of the expansion plan this year, the second quarter will see Advertising.my bringing affordable digital advertising boards for public transportation, most particularly taxi advertising. Instead of the dull and boring light-boxes used on top of taxis, Advertising.my now offers water-proof digital advertising boards. These boards are designed to withstand all types of weather condition and using the modern LED technology, offer brighter videos and clearer images.
Clients can now showcase their advertisements that tap into the mobility of this media all across the cities. On top of that, they can use buses to advertise as well. This will come in the form of wrap-arounds, posters and banners on the buses as well as on the digital screens inside the vehicles.
As experts in the digital advertising industry, Advertising.my will be offering more contemporary services in these areas. This is where the agency will be offering newly-packaged SEO (Search Engine Optimization) packages to clients in Malaysia who are interested to push their websites in top search engine result positions. The new SEO services are more affordable with rates starting from as low as RM1,000.
On top of that, Malaysian businesses can now enjoy more effective PPC advertising strategies with Advertising.my's economical and practical Pay Per Click advertising approach, which have all been tried and tested over the years.
To facilitate this expansion programme, Advertising.my has engaged the services of some of the top copywriters in the advertising industry. The new and highly capable team will now offer some very innovative and high-impact copywriting services in Malaysia where they will derive and design the most creative slogans, advertising copy and other related areas.