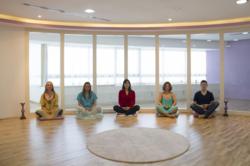 Dubai, Abu Dhabi, Sharjah, San Francisco, Pune (PRWEB) March 31, 2013
Illuminations founder and CEO Soniyaa Kiran Punjabi has big goals for her Dubai-based holistic well being center – she wants it to become the largest holistic health center in the Middle East. Working tirelessly for her life's passion, Punjabi has seen her business grow from its humble beginnings in a one-bedroom apartment to a beautiful and tranquil space in the Jumeirah Lake Towers. Now armed with a staff that is equally as passionate as she is, Illuminations is able to provide the most integrated wellness services available today.
The company offers a full range of holistic services for clients including yoga, meditation, hypnotherapy, feng shui, astrology, and more. Punjabi and her team are committed to creating a space where everyone can find a suitable method of unlocking their true potential from within themselves. Their mission is create a nurturing environment where individuals can gain access to support and empowering tools and techniques to access the inherent wisdom which lies within us all.
Through the "live light" movement at Illuminations, individuals are motivated to expand their minds, open their hearts, and gain the knowledge, wisdom and clarity in order to align their mind-body-energy, so they are empowered to convert their desires in order to experience greatness in their lives.
One of the first organizations of its kind in Dubai, Illuminations has trained many of its facilitators and therapists through an internationally accredited and recognized training program. Graduates are then fully integrated with the staff through an advertising and marketing program, which shows them how to conduct a variety of different services for clients under the umbrella of the brand itself. The brand is being streamlined into a successful franchise model and brand, which partners can take to clients in other countries and areas around the world. However, right now Illuminations is relies heavy on word-of-mouth and positive reviews to create new clients and ensure returning customers.
Punjabi herself is a transformational coach and clinical hypnotherapist trainer. She completed her BA at AIU in London in 2004 and received a doctorate in Clinical Hypnotherapy from the California Hypnosis Institute in 2007. Having experienced, firsthand, a major personal transformation through holistic modalities, she is determined to spread knowledge and empowering messages to everyone about how to make an informed choice about their life.
She continues to research tools and develop new innovative ways to contribute to the self-awareness movement.
Punjabi and her dedicated team have also been involved with bringing their Illuminations concept to several global events in Hong Kong, Singapore, and Bangkok, Thailand, whilst partnering with other wellness service providers across the globe. Illuminations is determined to promote world-renowned healers and authors through its already established platform to people all around the world.