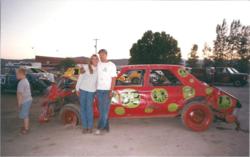 Demolition Derby is dangerous but not nearly as dangerous as it may seem," said Ryan and Katy Sweat, of Sweat Team Demolition Derby Drivers. "It is a way of life for us that has made us a stronger family.
Heber, UT (PRWEB) March 30, 2013
The parents of five, Ryan and Katy Sweat, share an exciting and dangerous passion for Demolition Derby which is being featured weekly on the new "Kings of Crash" reality TV series on the Velocity Channel Sunday evenings at 8/7 Central.
The Utah based husband and wife team balance the priorities of an active family, working full time jobs, and running their 40 acre family ranch with a tremendously exciting and dangerous hobby and passion, demolition derby. Now the nation has tuned in to watch weekly episodes with the objective of smash or be smashed and feature Sweat family clips with their home and kids along with derby night drama.
Katy and Ryan Sweat's TV fame started last year when they were approached by a production company that wanted to make a reality series about the demolition derby and its drivers. The Sweats drive in six demolition derby shows during the summer and work all year around their full time jobs and their children's busy schedules to prepare. They agreed to let a camera a crew follow them through the competitive derby season so more people could enjoy the sport.
"Demolition Derby is dangerous but not nearly as dangerous as it may seem. The Derby cars are built with the driver's safety in mind and the Derby rules also focus on safe competition," said Ryan Sweat. "The film crew followed us through Derby season to show how and why we do what we do. Demolition Derby is our passion and is also a way of life for my wife and our kids."
Demolition Derby cars are expensive to build. They are stripped of fixtures, lights and glass and numbered. Drivers wearing at least a seat belt and a helmet race in heats that require them to hit another car every two minutes. The last running car that makes contact with another driver wins. As a team, Ryan and Katy Sweat drive for prize money that hardly covers the cost of repairing their demolition cars from event to event as they travel to county fairs and competitions in Utah each summer. Ryan and his wife, Utah natives, have been competing for 22 years.
Ryan Sweat who has had a knack for working on cars since he was a kid is also known for his aggressive driving style which has destroyed most of the cars he has built.
"Preparing for the summer's derby season is an expensive and takes all year," said Ryan Sweat, well known driver of car #57. "We build the cars in our garage over the year and then in one wild crazy race the hard work could be smashed to bits and then we are back to rebuilding and finding parts for the next heat."
Katy says having the cameras following her family around their home and at the derbies took some getting used to but at the end of the season she hardly noticed them. She says between the kids and their school and sports and each of their jobs they just did what they normally did and got accustomed to being followed by a film crew while their family pursued their hobby.
"My focus is my family and as a family we love to demolition derby. That's what we do!" said Katy Sweat. "People ask me why we do something so dangerous when we have 5 kids, and I say that it really inspires us to see our kids cheering for us. We work together to build the cars and then we cheer each other on to destroy them! Plus hitting cars hard is a great stress relief I am a less grumpy mom after I rage in competition. Demolition derby is a dangerous hobby yet it makes us a stronger family!"
Demolition derbies first held at various fairs and race tracks and speedways by independent promoters in the 1950's, waned in popularity in the 1970's and have regained world popularity over the last few years among motorsport fans. There are estimated to be at least 2,000 demolition derbies every year in the United States alone.
You can find more information about the Sweat Demo Derby drivers and the Kings of Crash reality TV show on Facebook.