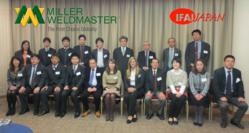 Navarre, OH (PRWEB) March 30, 2013
Miller Weldmaster has made international waves yet again. They recently showcased their industry-defining product innovations at the prestigious 2013 IFAI Japan Forum, an annual gathering in Japan with members of the world's largest specialty fabrics/technical textiles trade organization. The event took place on March 7, 2013 in Tokyo, Japan. It gave global companies a golden opportunity to showcase their products and services to approximately 30 vendors from all over Japan and China. It was a great way to build professional networks for future industry collaboration.
While there, Miller Weldmaster announced a new relationship with Sankei Corporation, to further accommodate Japan's industrial and technical fabric demands. Sankei Corporation, a reputed manufacturer and distributor, is based out of Osaka, Japan, and its President, Hideyuki Nishikawa, is also the Vice Chairman of IFAI Japan. The corporation will play a critical role in helping Miller Weldmaster serve the needs of its customers in Japan.
About Miller Weldmaster
Miller Weldmaster, the first choice globally of all industrial fabric welding solutions, has offered rotary hot air, hot wedge and impulse welding equipment to the industrial fabric and thermoplastics industries for forty years. For the fabrication and automation of various products from awnings to truck tarpaulins, to inflatables, Miller Weldmaster has developed many of the first advancements in heat sealing technology. The company's historical record of industrial "firsts" demonstrates its ability to research, design and build solutions using the most current and innovative features of the industry. Having sold machines in over 100 nations around the world, and with distributors in 20 countries, Miller Weldmaster Corporation is a leading international manufacturer and provider of solutions for plastic welding machines with a commitment to customer satisfaction. The company is headquartered in Navarre, Ohio, USA.
About Sankei Corporation
Sankei Corporation is a highly reputed international manufacturer and distributor of sewing, welding and cutting products. Founded in 1967, it is a recognized Japanese industry leader for its product innovation and design. Visit Sankei Corporation at http://www.sankei-corp.co.jp/ to learn more about what it has to offer.