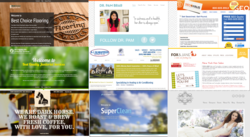 "It's cool. I like it. Everybody loves it."

A former GoDaddy client.
(PRWEB) March 30, 2013
CreativeHaus provides affordable website design services for businesses and individuals that includes a 100% money back guarantee. The designs are stunning, agency level designs and won't be anything from a template. There are no setup fees, cancelation fees, or hidden charges. There are no contracts, ever. Clients can upgrade, down size or change their site as needed. Clients also receive unlimited updates at no extra charge.
The amount of flexibility offered by CreativeHaus allows clients to focus on business and not have to deal with web management. As part of the Internet marketing services provided, the new site is submitted to all major search engines as well as helping clients set up locally with Google+ and other local directories.
The CreativeHaus team helps clients select a domain name that best reflects their company. Clients will also be provided web hosting that is included in the price. Any client that wants to grow their business can also look for assistance with SEO optimization plans crafted by SEOhaus, an Internet marketing company that has more than a decade worth of experience and has more than 600 clients.
Contact Creativehaus today at 1-888-966-7265 or on the net to get started with your new site.