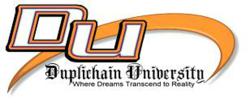 Lake Charles, Louisiana (PRWEB) March 30, 2013
Duplichain University, founded in 2008, will have their first commencement on June 2, 2013 in the Lake Charles Civic Center located in Lake Charles, Louisiana. Duplichain University is excited about commencement because it signals the beginning of many, many years of academic achievements. To celebrate this auspicious occasion, the university is planning an Honor's Brunch prior to commencement to honor community trailblazers who have been instrumental in the development and progress of Duplichain University and have exhibited commendable service to our community.
The honorees are Ms. Faye Blackwell, Owner of KSWA, 104.9 FM Radio Station in Lake Charles, Louisiana; Dr. James Frank, Retired President of Langston University and Duplichain Board of Trustee President; A.B. Franklin, State Representative; Ms. Barbara Pickney, Program Director, Child Development Council of Acadiana, Inc-St. Landry Parish; The Honorable Mayor Randy Roach of Lake Charles; and Dr. Press Robinson, President of Duplichain University.
Duplichain University is a global online learning institution offering undergraduate and graduate degrees in Education and Criminal Justice. Duplichain University offers an innovative learning approach in a supportive, nurturing and flexible academic environment. Students enrolled in Duplichain University develop, refine, strengthen, and enhance their skills in a discipline of their choosing, while maturing academically, intellectually, and personally.