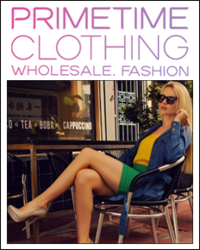 (PRWEB) March 30, 2013
PrimeTime Clothing, the popular online supplier of premium wholesale apparel and accessories, has recently released their highly anticipated Trend Report for Summer 2013. Apparel shops and consumers around the world look to PrimeTime Clothing's special insight into the ever-changing trends of the fashion world, to stay abreast of customer demands. This comes as good news to shop owners and fashionistas alike seeking the latest trends at low online prices for this spring and summer 2013.
The fashion world is notoriously fickle and therefore it can be difficult for apparel shops to make the product purchases they need in advance to properly supply their customers with the fashions they will need in the future. PrimeTime Clothing works with hundreds of Los Angeles area manufacturers and importers to stay completely current on the latest trends for their clientele around the United States and the world. Through their most recent trend report and throughout PrimeTimeClothing.com, customers can gain access to up-to-the-minute wholesale fashion trends and collections that are set to permeate the fashion apparel community through summer of 2013 and beyond.
PrimeTime Clothing is dedicated to supplying a wide variety of the latest wholesale apparel options at the lowest prices on the Internet. They are well sought after by business owners and fashionistas around the world for their quality supply of premium wholesale dresses, wholesale tops, cheap clothes for men, wholesale accessories and much more. As spring and summer quickly approach, more and more people look to PrimeTime Clothing for their unique industry insight into the latest wholesale fashion trends for men and women, and for their massive inventory of discounted wholesale clothes.
About PrimeTime Clothing
PrimeTime Clothing is an online premium wholesale fashion apparel and accessory distributor with low, discounted prices. Based in Los Angeles, they have high quality goods that arrive daily from hundreds of Los Angeles area manufacturers and importers, so their customers have access to the latest fashions. They have over 25 years of experience in the business of discounted wholesale apparel. They offer additional discounts on top of their already low below wholesale prices. For more information, visit http://www.primetimeclothing.com/ or follow them on Facebook, Twitter, YouTube, Pinterest, Tumblr, Google+, or Instagram.